The Government of Áñez announces an emergency plan to guarantee the supply of fuel in La Paz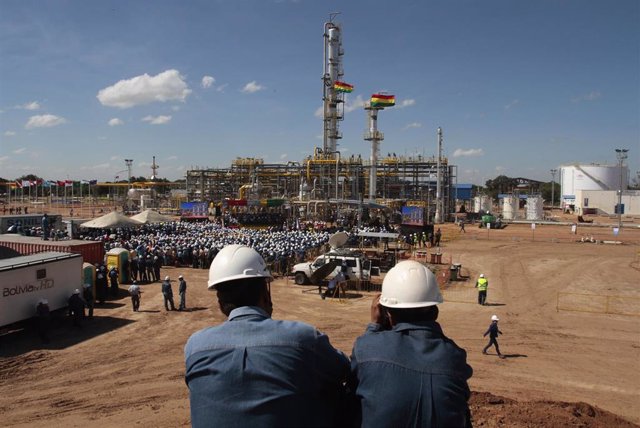 Liquefied natural gas plant of the state YPFB in Rio Grande, Bolivia. – REUTERS – Archive
MADRID, Nov. 18 (EUROPE PRESS) –
The Government of the self-proclaimed interim president of Bolivia, Jeanine Áñez, announced on Monday an emergency plan to guarantee the supply of fuel in La Paz, after the state-owned hydrocarbons company YPFB informed last week that it suspended the shipment of liquid fuels to the capital for protests.
The Minister of Hydrocarbons appointed by Áñez, Víctor Hugo Zamora, explained that La Paz is practically out of stock due to the blockage of the roads leading to the Senkata plant in El Alto.
Zamora has indicated that the Government's plan involves importing gasoline and diesel from Peru and Chile, so it is expected that in the next few days a hundred tanks with fuel will arrive in Bolivia.
The main objective, as noted, is to reactivate the public transport network. The accumulation of garbage is another problem that begins to emerge in La Paz, since the lack of fuel has slowed the collection, according to the Bolivian newspaper 'La Razón'.
In addition, he has assured that the importation of fuel will not affect the pocket of Bolivians because the Government will ensure that the price of gasoline and diesel does not rise "not a single penny."
He has also taken the opportunity to urge protesters to depose roadblocks. "We no longer punish people," he said in statements to the local Bolivia TV network.
Protests broke out after the presidential elections of October 20, in which Evo Morales proclaimed his victory but the opposition denounced a "gigantic fraud." The Organization of American States (OAS) audited the electoral process in which it found "irregularities."
Morales resigned on November 10 and fled to Mexico, where he is a political asylee. Áñez, second vice president of the Senate, proclaimed herself interim president to fill the power vacuum left by the indigenous leader and the resignation of other senior officials.
Neither Morales nor his followers recognize Áñez because they believe that his stay at the Burned Palace is the result of a "coup d'etat". She, for her part, has asserted that she will only be in office for the time necessary to call new elections.