The G7 will impose an import ban on Russian gold
US President Joe Biden has announced that the participating countries at the G7 summit, which begins this Sunday in Germany, will impose an import ban on Russian gold.
"Together, the G7 will announce the import ban on Russian gold, a key export that brings in tens of billions of dollars for Russia," Biden said on his Twitter account.
While Western sanctions to punish Russia have largely closed European and US markets to Russian gold, the G7 compromise will mark a complete disconnect between Russia and the world's two main trading hubs, London and New York.
Indeed, and thanks to support for the fundamental role played by London in the gold trade, "the measure will have a global reach and will have a huge impact on Russia's ability to raise funds," the UK government said in an additional statement.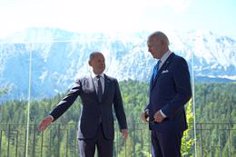 In the G7, Biden and Scholz are banking on a "stronger" West when the war in Ukraine ends
However, the move formalizes a current situation where supplies between Russia and London have been reduced to almost zero since Western countries sanctioned Russia for its invasion of Ukraine.
The London Bullion Market Association, which sets the standards for this market, removed Russian gold companies from its accreditation list in March.