The first election results grant a broad advantage to the current president of Taiwan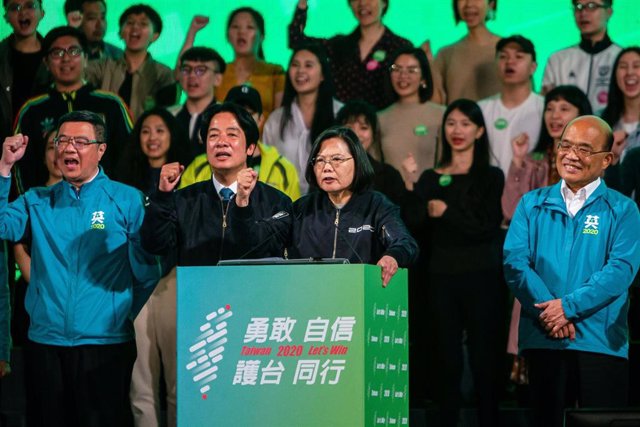 Tsai Ing Wen, President of Taiwan – Chan Long Hei / SOPA Images via ZU / DPA
TAIPEI, 11 Jan. (DPA / EP) –
The current president of Taiwan, Tsai Ing Wen, leads with great advantage the polls at the ballot box after the presidential elections held this Sunday on the island, according to the first data collected by the territory's television.
According to the results published at 11.00, Tsai has so far collected 3.7 million votes against the 2.5 million of its main rival, the candidate of the Chinese Nationalist Party, Han Kuo Yu.
If this trend continues, Tsai would obtain a second and final four-year term for which he has promised to maintain his independence policy at the head of a territory that China considers historic property.
The outgoing president would also culminate a spectacular comeback since the 2018 local elections, in which the PPD suffered a severe setback due, mainly, to the controversial pension reform promoted by the Tsai Government and its express support for gay marriage.
The overturn in the electoral projections led, paradoxically, to China. The Chinese president, Xi Jinping, opened the year with a speech in which he verbalized the intention of the Asian giant to impose the principle of 'one country, two systems' on Taiwan.
Taiwan has had its own government since 1949, when the Kuomintang and his followers, led by General Chiang Kai Shek, arrived on the island after being defeated by the Chinese Communist Party (CCP) of Mao Tse Tung in the civil war.
Since then he has struggled to be recognized as an independent State, something that he achieved briefly until in 1979 the Jimmy Carter Administration changed its recognition from Taipei to Beijing, dragging it to other countries.
The territory was democratized in the 90s while assuming the so-called '1992 consensus', a tacit recognition between the Kuomintang and the CCP that there is only one China, although each party is free to define it.
Xi broke this unwritten rule by clearly advocating the reunification of China, which involves putting Taiwan under the orbit of Beijing in the same way it did with the former colonies of Hong Kong and Macao.
Recent surveys indicate that 80 percent of Taiwanese reject the idea of ​​reunification. Most prefer to maintain the de facto independence enjoyed by the territory, since a formal secession could lead to a military response from China.