The first day of dialogues between the Government of Colombia and the unions is settled without agreement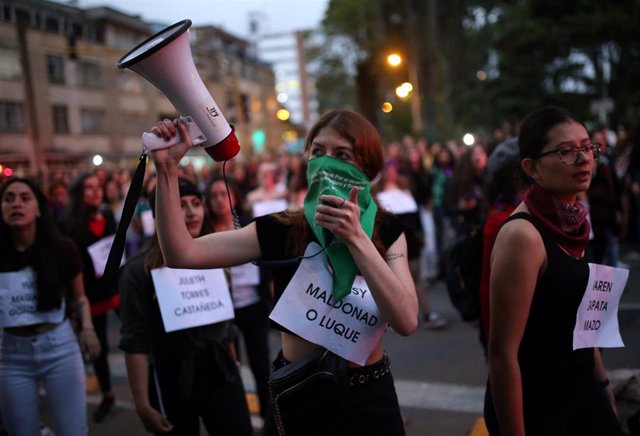 Feminist protesters during the last days of protests that, together with other sectors of Colombian society, are carrying out against the social and economic policies of the Government of Iván Duque. – REUTERS / LUISA GONZALEZ
BOGOTÁ, Dec. 4 (EUROPE PRESS) –
The first day of dialogue between the Government of Colombia and the National Committee of the Unemployment has ended on Tuesday without major agreements although they have announced a new meeting for Thursday, a day after unions and social organizations return to the streets to manifest
The initial plan was to sit down to discuss and address the 13-point program that the organizers of the marches had written. However, the meeting has revolved around the mobilizations that have been announced for Wednesday, so no major agreements have been reached, as reported by the Colombian newspaper 'El Espectador'.
The session has been formed by about thirty members of the associations that make up the National Committee, while the President's Government, Iván Duque, has been represented by the director of the Administrative Department, Diego Molano, and the Colombian ambassador in Costa Rica, Angelino Garzón.
Molano has reported that the Government has no intention of withdrawing the presence of the Mobile Police Riot Squadron (Esmad) from the mobilizations announced for Wednesday, nor of providing a space on television to broadcast the demonstration day, as They have asked from the Committee.
"We cannot give these guarantees because we have to protect the population and, in addition, there is a statute of the opposition that says what are the requirements to make exclusive television presentations," Molano explained.
For its part, the Unitary Central of Workers (CUT), the largest union in Colombia, has rejected Tuesday the request of the Government to suspend the strike called for Wednesday in favor of the dialogue with which the House of Nariño seeks to quell the wave of protests
"The strike has no reversal, we do not meet those conditions that the Government poses," said the president of the CUT, Diogenes Orjuela, after the Government claimed that the economic effects that unemployment is having are affecting the development of commercial activities during the Christmas season.
Colombia already has twelve days of protests starring unions, students and other social organizations in which there have been clashes with security forces that have left at least one dead and dozens injured.
The main demands are social improvements, as well as greater security in the territories affected by the armed conflict, although they also include the Government resuming the peace dialogue with the guerrilla of the National Liberation Army (ELN).
Duque initially offered a "great national conversation" that, in addition to the protesters, includes businessmen and representatives of various sectors, but the National Committee of the Stop refused demanding a bilateral negotiation.
Finally, the Government has agreed to an exclusive dialogue with the National Committee of Pero, although it has not renounced its "great national conversation" which, as Molano explained, will take place in parallel.