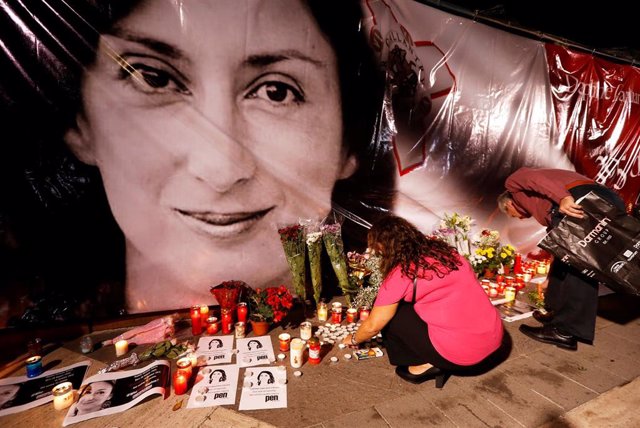 Demonstration of revulsion for the attack that ended the life of Daphne Caruana Galizia, the Maltese reporter who uncovered several cases of corruption in the country, including some related to the Government and its prime minister. – REUTERS / DARRIN ZAMMIT LUPI
Request information on the request for pardon from a famous businessman arrested for his alleged relationship with the crime
MADRID, Nov. 27 (EUROPE PRESS) –
The family of journalist Daphne Caruana Galizia, killed in October 2017, has requested an urgent meeting with the Attorney General's Office to discuss the request for presidential pardon filed by the defense of businessman Yorgen Fenech, arrested last week for his alleged involvement with the crime, the newspaper 'Times of Malta' has reported.
The request of the family of Caruana Galizia comes after the resignation of two key members of the Government of Malta, Keith Schembri, Chief of Staff of the Prime Minister, Joseph Muscat, and Tourism Minister Konrad Mizzi.
Yorgen Fenech is a well-known Maltese businessman who was arrested by the Police last week for information provided to investigators by a suspect who decided to collaborate with the Police in exchange for his release.
After his arrest, Fenech's lawyers filed a request for a presidential pardon on Saturday, which has prompted Caruana Galizia's family to request an urgent meeting with the Attorney General's Office for fear that the businessman will be released.
"We have requested an urgent meeting with a representative of the Prosecutor General's Office to clarify the situation regarding Yorgen Fenech's presidential pardon request. We have not yet had an answer yet," Paul Caruana Galizia, son, told the Times of Malta newspaper. of the murdered journalist.
Last week, the Caruana Galizia family called on the Prime Minister of Malta to distance himself from investigations into the journalist's murder over Fenech's connections with members of his Executive, especially Schembri and Mizzi, the two senior officials who resigned on Tuesday . Schembri was arrested that same day during the investigation.