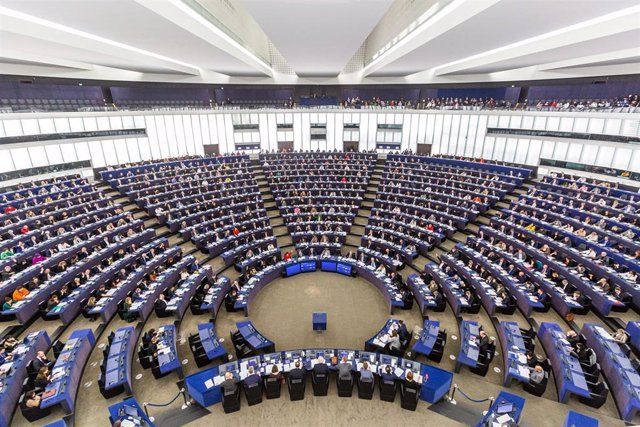 General view of the European Parliament during a session – Philipp von Ditfurth / dpa
BRUSSELS, Jan. 23 (EUROPE PRESS) –
The Committee on Constitutional Affairs of the European Parliament has completed this Thursday the first step for the European ratification of the exit agreement of the United Kingdom, by giving its approval to the conditions of the divorce and recommending to the plenary session of the European Parliament to give the green light next January 29, just two days after Brexit occurs.
The recommendation that will be debated and voted within a week in the plenary session to be held in Brussels has come forward with the support of 23 MEPs, three against and no abstention. No amendments to the text were submitted.
"It is a historic moment although it is not a positive moment. It is not time for celebrations but we respect the decision of the British people," said the president of the Europarliamentary commission, Antonio Tajani.
The former president of the European Chamber during the Brexit negotiations has stressed that this break represents the "antithesis" of European solidarity principles and has valued that the agreement will minimize the "damage" of the break for citizens, businesses and institutions
The European Parliament has long since agreed with the terms of the agreement, although they are worried about the guarantees that the rights of Europeans in the United Kingdom will be respected, but warned that it would not ratify the pact until the other party concluded the process .
After the approval this week of the Treaty of Withdrawal in the House of Commons and that Queen Elizabeth II has promulgated the Law that will allow the orderly exit of the EU, MEPs have begun the procedures that correspond to them.
The president of the European Council, Charles Michel, and the president of the European Commission, Ursula von der Leyen, will sign the agreement symbolically on Friday, although its ratification will not be concluded until the Eurochamber vote and validation, by written procedure in the following hours, by the Twenty-seven.