The Euroc á mara condemns the "coup attempt" of the Maduro regime and reaffirms its support for Guaid ó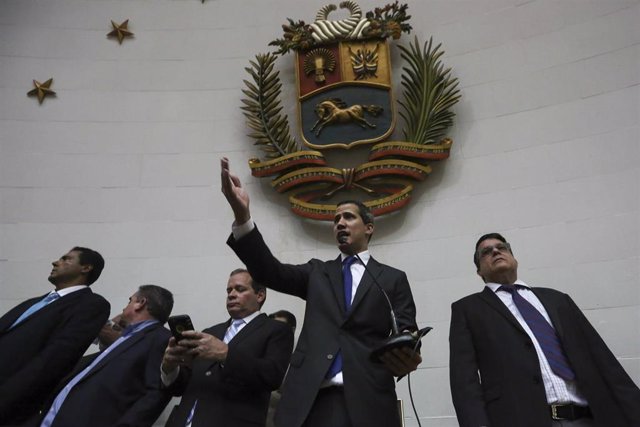 Juan Guaidó in the National Assembly – Pedro Rances Mattey / dpa
Borrell asks for greater pressure from the EU and expand the list of sanctions for their complicity with the repression
The plenary session of the European Parliament has strongly condemned on Friday what they consider an "attempted coup" of the regime of Nicolás Maduro and his "allies" against the National Assembly on January 5, while reaffirming their support to Juan Guaidó as interim president of Venezuela.
MEPs consider that the incidents that prevented the election of the president of the National Assembly that day constitute a "parliamentary coup d'état orchestrated by the illegal regime of Nicolás Maduro", according to the resolution adopted in the plenary session of Strasbourg (France) by 471 votes in favor, 101 against and 103 abstentions.
Guaido himself has celebrated this support, which he has described as "forceful" not only for himself or for the National Assembly, but also for an entire Venezuela "that today needs solutions." "We have international recognition and more pressure measures are promoted to the dictatorship," he stressed on Twitter.
The Eurocamara text echoes "serious irregularities" and acts against the democratic and constitutional functioning of the National Assembly to try to impose the pro-government candidate Luis Parra as the new president of the parliamentary institution.
That is why they "strongly condemn" what happened and warn that the National Assembly is "the only legitimate democratic body" in the country and must be able to properly carry out its constitutional mandate.
Thus, the MEPs reiterate the support of the European Union to Guaido, whose appointment as interim president has been recognized by more than 50 countries, half of them countries of the European Union, and also by the EU as a block.
The European Chamber also recalls the willingness of the European Union to support a genuine process that leads to a peaceful and democratic resolution of the crisis, although it regrets that the efforts made so far have concluded without "any tangible result".
Therefore, although they are committed to continue working on initiatives such as the International Contact Group, MEPs ask the EU's High Representative for Foreign Policy, the Spanish Josep Borrell, to increase the pressure of the Twenty-eight on the Maduro regime.
Thus, the Europarliamentary resolution calls for the "extension of specific sanctions" against people involved in human rights violations and repression, also applying them to "relatives" of those responsible.