The EU will debate on Monday how to relaunch the process of dialogue in Venezuela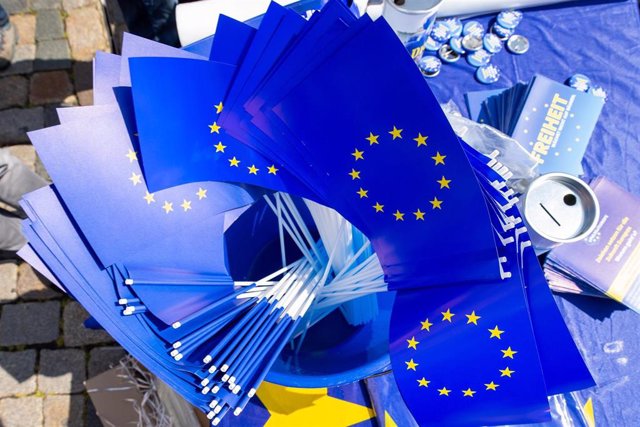 EU flags at a campaign event in Germany – Daniel Schäfer / dpa – Archive
BRUSSELS, Feb. 14 (EUROPE PRESS) –
The member countries of the European Union (EU) will debate on Monday how to relaunch the process of dialogue in Venezuela to seek the call for free elections in the margins of the Contact Group.
Within the framework of the Foreign Affairs Council (CAE), Spain and other countries want to reactivate this forum and hold a ministerial meeting in a few weeks, so that more Latin American countries can enter it.
In the last CAE, the Foreign Minister, Arancha González Laya, offered Madrid to host an upcoming meeting and her counterpart from the Netherlands was also interested in the Contact Group.
The news of Venezuela will be discussed at the request of the High Representative of the EU's Common Foreign and Security Policy, Josep Borrell, who wants to present his contacts and the interest of several states to reactivate the Contact Group.
Likewise, the Twenty-seven will also address the latest developments in Venezuela and the international tour of the self-proclaimed "president in charge", Juan Guaidó.
The consulted sources rule out that the step of the Venezuelan Vice President, Delcy Rodríguez, for the Barajas airport will be debated and insist that nobody in Brussels has asked Spain about this case, not even informally "in the corridors" of The institutions Thus, they argue that the Government did not notify the Twenty-seven about this crisis because "there was no violation of EU sanctions."
Venezuelan President Nicolás Maduro has revealed this Friday at a press conference that Rodriguez visited "silently" several countries, including Spain, during his international tour to "talk interesting things" that are being developed on Venezuela.
Shortly before, in the same appearance, he has told that he has moved to Spain and other "friendly governments", among which he has also mentioned Argentina, Mexico, Panama, Russia and the EU, his proposal to create a group of "friendly countries "That is responsible for promoting dialogue in Venezuela.
Maduro's idea is that this group favors the holding of "an inclusive and sovereign dialogue (…) to strengthen democracy" in Venezuela that develops "before, during and after" the parliamentary elections planned for this year in the Caribbean nation
Chavismo intends to use the elections to the National Assembly – the only institution controlled by the Venezuelan opposition – to overcome the political crisis, but Guaidó insists that the only way out is "credible" presidential elections.