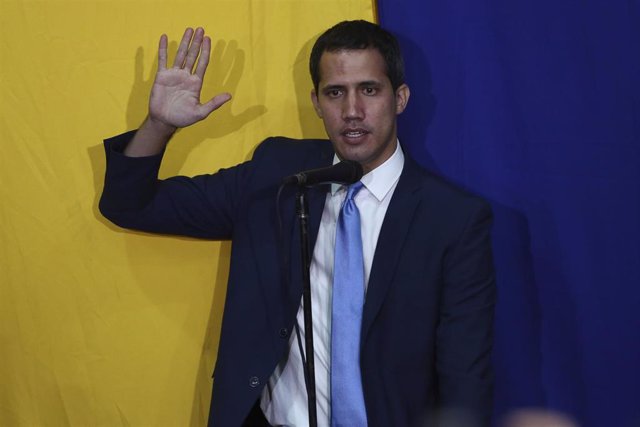 The president of the National Assembly of Venezuela and self-proclaimed president of the country, Juan Guaidó – Pedro Ramses Mattey / dpa
BRUSSELS, Jan. 6 (EUROPE PRESS) –
The European Union (EU) has affirmed that it continues to recognize Juan Guaidó as the legitimate president of the National Assembly of Venezuela after the "irregularities" experienced this Sunday at the parliamentary headquarters where opposition dissident Luis Parra was appointed president before the impossibility of Guaidó to access the vote.
The EU recognizes Guaidó as President of the Assembly until the vote can be repeated
Given this, a spokesman for European diplomacy has charged in a statement against what he considers "serious irregularities" that go against the constitutional and democratic functioning of the Assembly of Venezuela.
"It is not acceptable that the National Assembly, as a legitimate democratic body of Venezuela, has not been able to carry out the mandate it has received from the Venezuelan people," he said.
For the EU, the experience in the parliamentary headquarters is not compatible with the process of appointing a president of the Chamber, so he insists on his recognition of Guaidó as the legitimate president of the National Assembly "until the appropriate conditions can be ensured for a vote "of this nature.
In this regard, he stressed that the situation "constitutes a new step in the deterioration of the Venezuelan crisis" and has emphasized the need to "respect democratic institutions and principles and the rule of law" to get out of the crisis.
However, the bloc emphasizes its support for a "genuine process" towards the peaceful and democratic resolution of the Venezuelan crisis that is going through "credible and transparent" elections. "The EU reaffirms its commitment to actively contribute to this goal," says the statement.
This Sunday, Parra has been elected in a first session at parliamentary headquarters without Guaidó being present, as several deputies have not been able to access the Assembly due to police controls.
Although, after these events, Guaidó has been re-elected in his position in an alternative session held in the editorial of the newspaper 'El Nacional'. In this vote he received a total of 100 votes against the 81 achieved by Parra. For the re-election a quorum of 84 deputies is necessary.