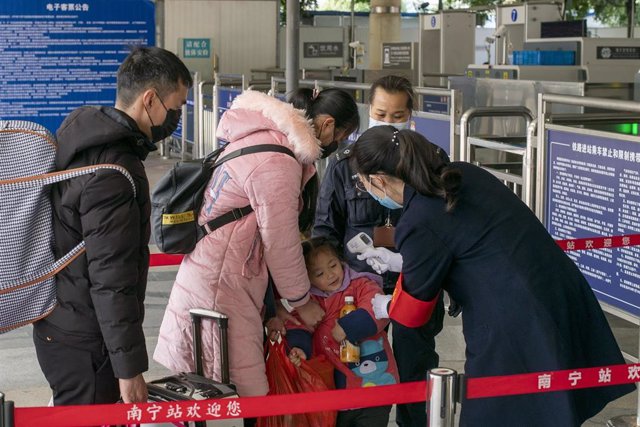 Nanning, China – A child shows relecutance to be tested for fever by security staff at Nanning Railway Station wear in wake of the coronavirus outbreak, – Dave Tacon
About 250 French will leave on a first flight and another 100 of any nationality will travel on the second
BRUSSELS, Jan. 28 (EUROPE PRESS) –
The European Commission on Tuesday activated the EU civil protection mechanism at the request of France to mobilize two planes that will evacuate from European citizens of the city of Wuhan, epicenter of the viral pneumonia outbreak (coronavirus) in China.
In a statement, the Community Executive explained that any EU citizen who is currently in the region may request repatriation regardless of their nationality through this mechanism, through which the EU will pay a portion of the transport costs.
The first flight will leave France on Wednesday morning to later transport about 250 French citizens, according to initial Brussels figures. The second, which will also travel this week, may transport another 100 citizens of any Member State.
"The EU does not forget its citizens in a situation of need, wherever they are in the world. Two aircraft will be mobilized through our civil protection mechanism to repatriate EU citizens to Europe," said the Commissioner for the Management of Crisis, Janez Lenarcic.
That of France has been the first request for help that the Community authorities have received, according to the European Commission, which expects the community partners to make similar requests in the coming days.
For the moment, only European citizens who are healthy or have no symptoms of suffering from the coronavirus can be evacuated through this Wuhan program.
For its part, Health Commissioner Stella Kyriakides recalled that Brussels is "prepared" to help Member States and ensure a "solid and coordinated" EU response both outside and inside the block to the outbreak of the coronavirus.