The EU denounces "irregularities" in the trial against Requesens and others arrested for attacking Maduro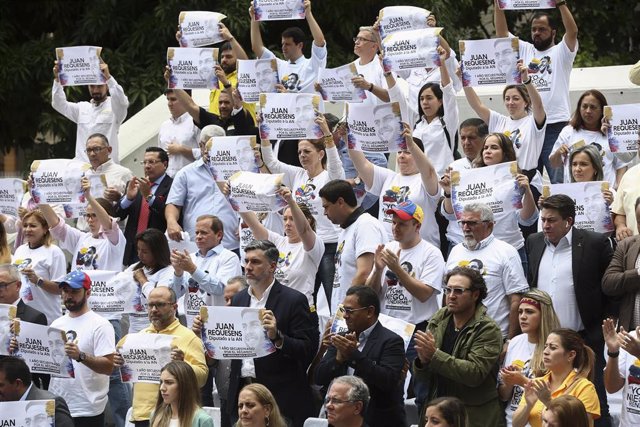 Demonstration of support for Juan Requesens – Pedro Ramses Mattey / dpa – Archive
BRUSSELS, Dec. 16 (EUROPE PRESS) –
The European Union has called for transparent investigations and a "fair trial" for opponents detained in Venezuela and, in particular, has denounced "irregularities" in the process against Deputy Juan Requesens and others arrested for the attack on President Nicolás Maduro, and in the investigations on Roberto Marrero, chief of staff of the president of the National Assembly, Juan Guaidó.
The office of the High Representative of Foreign Policy, Josep Borrell, recalled that 17 people, including Requesens, were accused of participating in the drone attack against Venezuelan President Nicolás Maduro in August 2018. In the case of Requesens, his arrest "was a clear violation of his parliamentary immunity," he warned.
The EU "regrets that the trial, so far, has not provided adequate guarantees of transparency and due process." In this regard, he has denounced the veto to diplomats who wanted to access as "observers", since it would be a violation of Venezuelan laws themselves.
"Similar irregularities" have also been detected in the case of Marrero, detained since March 21 and accused of directing an alleged terrorist cell.
Borrell's office has appealed to the "special responsibility" of Venezuela, a country to which he recalled that he is a member of the UN Human Rights Council and, as such, should advocate for the "full respect" of freedoms and rights also within from their own borders.
"Venezuelan authorities should guarantee a transparent process against all detainees and release all political prisoners," he added, in the framework of a statement in which he has also urged Caracas to collaborate with the UN High Commissioner for Human rights to clarify possible abuses.
In this regard, he has requested "unhindered access" for the staff of the High Commissioner to "all political prisoners and their trials."