The EU at 27 "takes note" of the request for extension while continuing the process of ratification of the agreement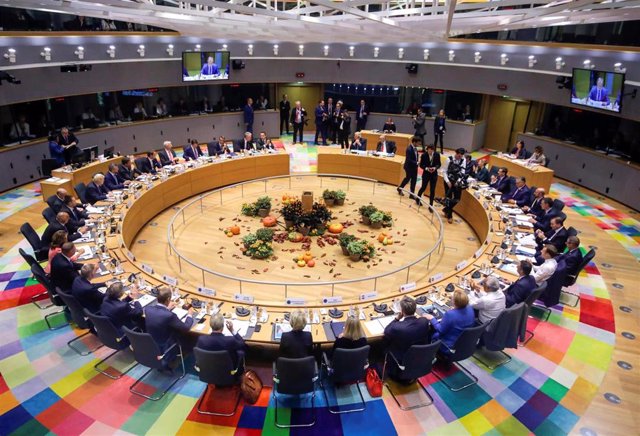 EU meeting in Brussels – REUTERS / POOL NEW
BRUSSELS, Oct. 20 (EUROPE PRESS) –
The Twenty-seven have "taken note" this Sunday of the letter sent by British Prime Minister Boris Johnson to request the extension of Brexit until January 31, 2020, but they have not analyzed the issue pending the president of the Council, Donald Tusk, consult with the capitals, while continuing the European process of ratification of the agreement.
This has been concluded at a meeting of ambassadors of the Twenty-seven previously scheduled to take stock of the Brexit process and which has concluded "in just 15 minutes," European sources have told Europa Press.
"The extension has not been discussed," the sources emphasize, and the ambassadors have simply agreed to launch the necessary written procedures to continue the process of ratification of the agreement negotiated by Johnson with Brussels.
After the approval of the European leaders last Thursday to the changes agreed between Brussels and London to try to save the Withdrawal Treaty, the agreement still needs from the European side that the member states formally adopt it and that the full Eurocamara also gives Your approval
The Eurocamara is ready to fulfill its task in the plenary that will begin this Monday in Strasbourg, which would allow the vote to be held on Thursday for ratification, but this process has been suspended pending waiting to see what happens in London.
The ratification of the agreement by the House of Commons is also necessary for it to enter into force in time for Brexit on October 31, but an amendment approved on Saturday paralyzed it because it requires preparing previous legislation.
This forced Johnson to send the formal request to the European Union last midnight for a third postponement of the departure from the United Kingdom, with the aim of avoiding a traumatic break due to lack of agreement.
The 'premier' made it clear to Tusk that he does not want this extension and that he bets on Brexit on its due date, but that it sends the request forced by a Westminster decision.
Tusk, on the other hand, confirmed the receipt of the letter and considered it good even if it was not signed, so this week he will begin consultations with the EU Heads of State and Government to decide how to proceed.