The ELN releases three minors "in adequate health conditions" in northeastern Colombia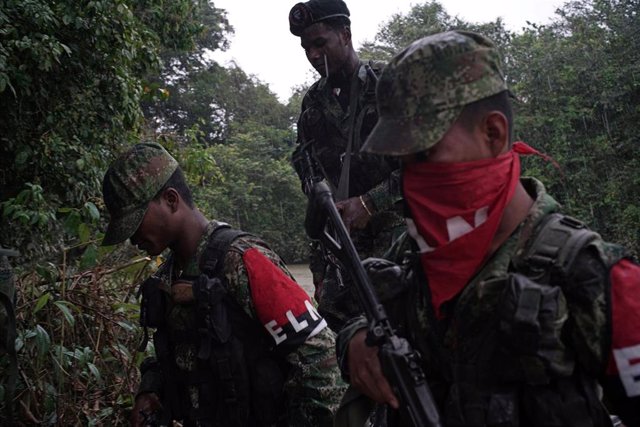 Members of the National Liberation Army (ELN) of Colombia – REUTERS – Archive
BOGOTÁ, Dec 24 –
The National Liberation Army (ELN) has handed over three minors "in adequate health conditions" to the International Committee of the Red Cross (ICRC) in the department of Arauca, in northeastern Colombia, a few hours after Christmas day, time of the year when the guerrillas usually announce their traditional truce until the end of the year.
"We are glad that these children can return home with their families," the ICRC has celebrated through a brief statement in which it has not specified whether the youth had been recruited or kidnapped. In that sense, the agency has not specified the name and family conditions of the boys as they are minors.
"We remind all parties of the armed conflict the obligation to respect humanitarian standards in all circumstances," insisted the deputy head of the ICRC Delegation in Colombia, Mulan Giovanni, who has recalled the work of intermediary that the Red Cross It has been performing for the last 50 years in the Colombian territory and that has meant the release of 1,784 people by the different armed groups that have operated in the region.
At Christmas time, the ELN, as the Colombian newspaper 'El Espectador' has pointed out, usually announces a truce until the end of the year on the occasion of the holidays. While it is also true that this year the guerrillas have not spoken about it in this regard.
Negotiations with the armed group have been stalled since earlier this year the president of Colombia, Iván Duque, made this decision after the attack with a car bomb at a police cadet school in the department of Santander, in the That 21 people died.
Duque has reiterated that the conditions for entering into negotiations with the guerrillas go through the liberation of "all" the hostages and the end of the "criminal acts". For now, he has confirmed that the Government has not made any contact with the ELN, a group with which his predecessor, Juan Manuel Santos, did speak.
That first dialogue with the ELN began in February 2017, but upon his arrival at Casa de Nariño, in August 2018, Duque suspended him waiting for the guerrillas to cease their criminal activity, despite the fact that one of the demands of The Colombian society that took to the streets demanding reforms in the Government was to sit down and talk to the different armed groups in search of a peace that has resisted the country for decades.