The ELN attacks an oil pipeline in northwestern Colombia a few days after the "armed strike"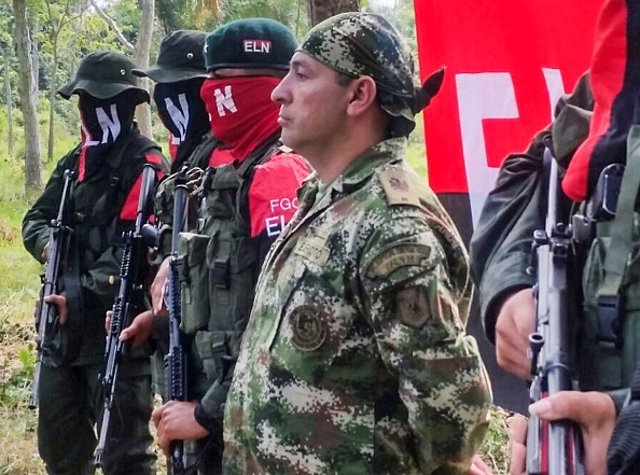 The work of the Colombian Caño Limón-Coveñas pipeline was interrupted by an attack by the National Liberation Army (ELN). – GETTY – Archive
MADRID, 12 Feb. –
The guerrilla of the National Liberation Army (ELN) has exploded on Tuesday a section of the Caño Limón Coveñas pipeline, in the department of Norte de Santander, in northwestern Colombia, which is the first attack of the armed group since they announced that This Friday would begin an "armed strike" throughout the weekend.
The explosion has taken place at kilometer 160 of the Mirolindo and Alto Santa Inés sector, in the municipality of Toledo, when several explosive charges detonated the oil infrastructure, which as a consequence, has begun to spill oil.
The Colombian authorities have already launched a contingency plan with which to contain the oil leak with the aim of not generating an environmental emergency, said the station Caracol Radio.
The attack came shortly after Colombia's Government Commissioner for Peace, Miguel Ceballos, insisted that the only way to resume dialogue with the ELN is subject to the cessation of hostilities by the guerrillas.
In that sense, Ceballos has stressed that the latest actions of the guerrillas, such as the announcement of the next "armed strike" planned for this weekend, "do not demonstrate a desire for peace."
"The ELN does not understand that it is no longer a time of war, we Colombians want to turn the page, we must continue to build peace and implement the agreements that have already been reached," said Ceballos in the Departmental Council of Expanded Peace held in Putumayo.
Ceballos has also criticized the lack of command in the ELN headquarters in case the voices that warn that this "armed strike" comes only from a part of the guerrillas are fulfilled. "If this threat is only a decision of an ELN faction, it is sad because while some say they want peace, others announce armed strikes," he said.
The ELN announced last Saturday that on February 14 will begin a new 72-hour armed strike in the Catatumbo region, in the north of the country, where it fights for the guerrilla of the People's Liberation Army (EPL) for control of the territory .
The "armed strikes" of the ELN force a confinement of local residents, as they restrict the traffic of people and vehicles through the affected areas. In this case, he has specified that "the right to transport patients who need hospital treatment" and the movement for "funeral matters" will be respected.
In that sense, as the newspaper 'El Espectador' recalled, Defense Minister Carlos Holmes Trujillo warned last weekend that the government will carry out a "total offensive" against guerrillas and terrorism.
"We are not going to allow ELN criminals to come to blackmail the National Government with terrorism and attacks on the civilian population alleging false wishes for peace," said Holmes Trujillo.