The Democratic Party confirms problems in the transmission of data after the Iowa caucuses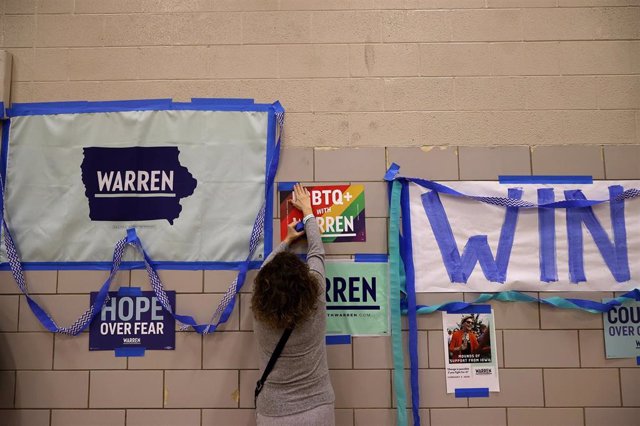 Caucus of the Democratic Party in Iowa – GETTY IMAGES / CHIP SOMODEVILLA
"When will they start blaming Russia for the disaster?" Trump says
MADRID, Feb. 4 (EUROPE PRESS) –
The Democratic Party has confirmed that there was a problem with the transmission of data from the Iowa caucuses and has advanced that it plans to release this Tuesday, "as soon as possible", the results of this expected first appointment in the race to the White House.
While on the Republican side the current president, Donald Trump, left Iowa with the support of 97 percent of his party supporters, on the Democratic side the neighborhood assemblies concluded without even transcending an estimate of what happened.
The president of the Democratic Party in Iowa, Troy Price, which had already recognized "inconsistencies" in the data at dawn, explained in a later statement that these failures were detected during the checks of the figures that were coming from the more than 1,600 assemblies organized on monday.
The Democratic Party considers the data collected by the application used throughout this process valid, but has indicated that "it was only reporting partial data." The training suspects that there was a problem with the coding system that is already "identified and fixed."
DEFEND THE SECURITY
"Our systems are safe and there has been no cyber attack. Before the caucuses, independent cybersecurity consultants verified the systems," explained Price, who added that "the underlying cause of the inconsistencies was not immediately clear and required an investigation. , which has taken time. "
The party staff then chose to enter the data manually, something that has also "taken longer than expected," Price added in its statement.
"Although our plan is to disseminate the results today, as soon as possible, our ultimate goal is to ensure the integrity and accuracy of the process," he stressed.
TRUMP SPEAKS OF "DISASTER WITHOUT PALLIATIVES"
Trump, meanwhile, has rushed to charge Twitter against the Democrats for what he considers a "disaster without palliatives." "Nothing works, like when they rule the country," said the president, who is considered "the only person who can claim a great victory in Iowa" after Monday's vote.
"When will they begin to blame Russia, Russia, Russia, instead of their own incompetence for the disaster in the voting?" Trump has raised in another message, in which he has made it clear that as long as he remains President Iowa will be the state that releases the long and complex of US primaries.