The Defensoría de Bolivia asks the mobilized groups to put down the firearms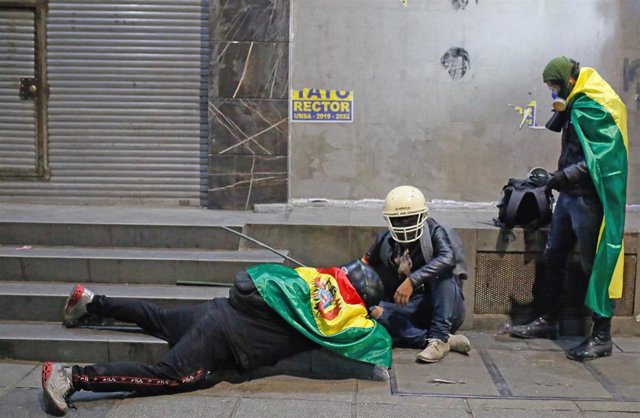 Protests against Evo Morales in La Paz after the elections of October 20 – Gaston Brito / dpa
MADRID, Nov. 10 (EUROPE PRESS) –
The Ombudsman of Bolivia has made a call this Sunday to the social forces mobilized in the framework of the political crisis in Bolivia to "depose the use of firearms."
"We call on mobilized people to depose the use of firearms during their protest, for not complying with respect for fundamental rights and warns that justice will sanction any impact on human life or integrity," the agency published on Twitter.
Specifically, the Ombudsman reveals that he has received a complaint from members of the Potosinist Civic Committee (COMCIPO) about the siege of which the miners were being victims by settlers and shelves of the municipality of Huancarani, between Potosí and Oruro, where they point out the presence of weapons and three injured as a result of the use of firearms.
"This extreme, in addition to being outside the legal framework, implies a serious danger for the population in general, so again it is urged that those who are mobilized not make use of lethal weapons," added the Ombudsman.
"We also call on the Bolivian Police to send uniforms to protect the safety of those who are under siege and to move to the city of La Paz," the statement concludes.
The protests in Bolivia broke out the same night of the presidential elections held on October 20 due to the sudden suspension of the transmission of official results just when they forced a second round between Morales and the main opposition leader, Carlos Mesa.
When he resumed, almost 24 hours later, they granted Morales the first round victory, so Mesa has denounced a "gigantic fraud." Both called for the mobilization of their own, which has resulted in riots. At least two people have died and more than 190 have been arrested in these two weeks.
In this context, Morales agreed that the OAS, supported by countries such as Spain, Mexico or Peru, carry out a binding electoral audit. Mesa, on the other hand, does not accept it because it says it is the result of a unilateral agreement between the Government and the hemispheric bloc without regard to the opposition.
On Thursday and Friday, police rioted in the more entrenched regions of the opposition, first to demand labor demands and then in support of opposition mobilizations, and on Saturday there were riots even in La Paz and the Army had to step up to warn that he would not suppress the protests.
This Sunday has finally published the preliminary report of the OAS mission that denounces serious irregularities in the electoral process and points out as "unlikely" that Morales obtained the 10 percent of votes necessary to avoid a second round against Mesa.