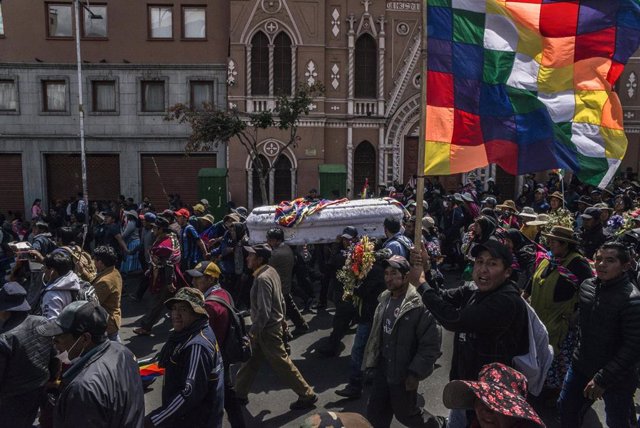 Funeral of one of those killed during the protests in Bolivia – Marcelo Perez del Carpio / dpa
MADRID, Nov. 28 (EUROPE PRESS) –
The death of one of those injured in the riots that have occurred in the context of post-election protests in Bolivia has raised the number of fatalities to 35, as reported by the Ombudsman on Thursday.
This is Julio Llanos Rojas, who died this Thursday after spending several weeks in intensive care, was injured on October 29 by a group of Ayllus indigenous people from Potosí who were demonstrating in La Paz in support of the Government of Evo Morales.
According to the Bolivian newspaper 'La Razón', a group of protesters assaulted Llanos Rojas, who was lying on the ground and received several blows to the head. Since then, he had been admitted to the Hospital Obrero.
"The Ombudsman's Office regrets the death of Julio Llanos Rojas, who survived the dictatorships that our country lived … and expresses his solidarity with his family for such an irreparable loss," the institution said in a statement.
Opposition leader Carlos Mesa has also expressed on Twitter his regret for the "tragic death" of Llanos Rojas, "persecuted in military dictatorships, a fighter for justice and a victim of the political violence of a government that never respected Human Rights."
The last report of the Ombudsman of Bolivia, a week ago, set the number of fatalities to 32, but since then a university student who has been injured at the Senkata hydrocarbons plant in El Alto has died, and another injured by a gun.
The crisis broke out after the presidential elections of October 20, in which Morales proclaimed his victory but the opposition denounced a "gigantic fraud." The Organization of American States (OAS) audited the electoral process in which it found "irregularities."
Morales resigned on November 10 and fled to Mexico. Jeanine Áñez, second vice president of the Senate, proclaimed herself interim president to fill the power vacuum left by the former president and the resignation of other senior officials.
Neither Morales nor his followers recognize Áñez because they believe that his stay at the Burned Palace is the result of a "coup d'etat". She, for her part, has asserted that she will only be in office for the time necessary to call new elections.