The dead increase to five due to the eruption of the White Island volcano in New Zealand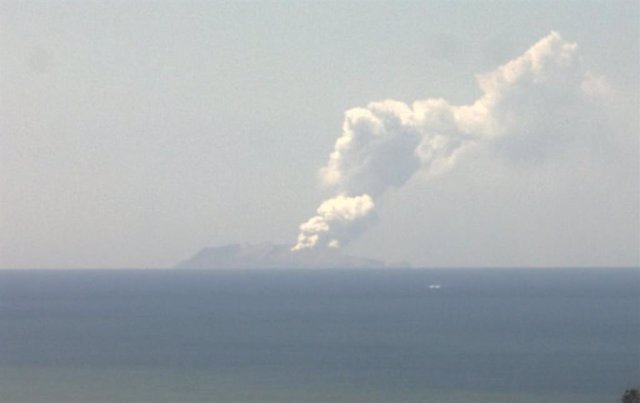 The volcano of Isla Blanca from Whakatane. – INSTITUTE OF GEOLOGICAL AND NUCLEAR SCIENCES
At least five people have died early on Monday because of the eruption of the volcano on the White Island, also known as Whakaari, in northern New Zealand, according to the latest balance sheet offered by the Police.
The eruption has occurred around 2.30 (local time) on the island, an active Andesite stratovolcano that is 48 kilometers from the North Island of the country in the Bay of Plenty. As explained by the authorities, the cone has expelled smoke and ashes.
At a press conference, the Deputy Commissioner of Police Operations, John Tims, has reported that there are already five killed by the eruption, among which there are foreign citizens, although he has not offered nationalities.
The officer said that the police are unaware if there are still people left alive on the island, from where they had previously been rescued the five people killed as well as 18 others, who are injured in varying degrees. In addition, it is believed that there would still be some people on the island, although the exact number is unknown, he added.
Tims has also explained that emergency services cannot reach the island for security reasons. "The island is unstable … the physical environment is not safe for us to return to it," he said, according to the newspaper 'New Zealand Herald'. "It is important that we consider the health and safety of those who will return to the island," added the deputy commissioner.
Meanwhile, the New Zealand Defense Force has joined the emergency response. One of the Air Force patrol planes has flown over the island to monitor the area and two helicopters have moved to Whakatane. In addition, a Navy ship is already underway to offer its support.
The country's prime minister, Jacinda Ardern, has announced that she will move to the area together with the Minister of Civil Protection, Peeni Henare, and has confirmed the presence of tourists both on the island and in its surroundings, including New Zealanders and foreigners.
Given the "concern and anxiety" of those who could have relatives in the place, Andern has assured that "the police are doing everything they can." Right now, he added in a statement, the priority is "to ensure that the Police and the National Emergency Management Agency have all the resources they need."