The dead by the outbreak of the new coronavirus already exceed 100 and those affected 4,500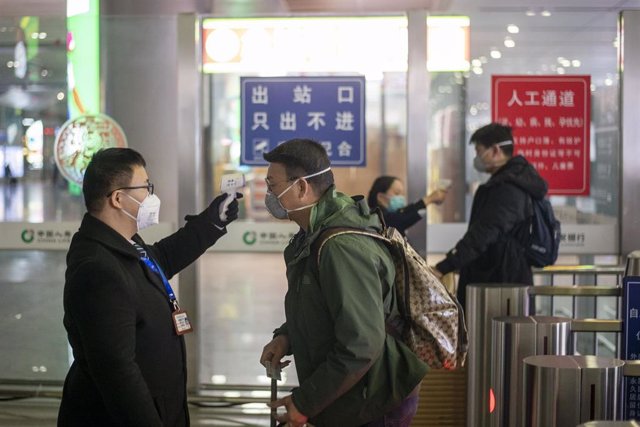 Staff of a train station in China takes a traveler's temperature. – Dave Tacon
Registered the first case in Germany
MADRID, Jan. 28 (EUROPE PRESS) –
The Chinese Health Commission has reported that on Monday 26 people have died due to the outbreak of the new coronavirus, which puts the death toll at 106, while the recorded cases amount to a total of 4,515.
Hubei, the Chinese region where the city of Wuhan is located, epicenter of the coronavirus, has reported 1,291 new confirmed cases. Of the 2,714 total cases diagnosed throughout the province, 2,567 people are hospitalized, 563 in serious condition and 127 in critical conditions.
Likewise, the Hubei Health Commission announced on Tuesday that Hubei hospitals received a total of 31,934 patients who had fever on Monday.
For its part, Germany has confirmed the first case of the Chinese coronavirus in the country. Specifically, the patient is a man from the Starnberg district in Bavaria, a spokesman for the Ministry of Health in Munich has reported and collected several local media.
However, the spokesman has insisted that "the risk of the Bavarian population becoming infected is low." The German State Office of Health and Food Safety has specified that the patient is clinically in good condition.
The virus has also reached other parts of the world. The French authorities confirmed on Friday their first three cases of the new coronavirus, the first recorded in Europe. The US Government, for its part, confirmed that there is a second infected patient in the country.
There are also records of two cases in South Korea and two in Japan and Vietnam. On the other hand, cases in Hong Kong have increased to eight and those in Macao to seven. In Singapore one has been registered, while in Taiwan five. In addition, three cases have been registered in Thailand, but two of them have already been cured, the same number as in Malaysia, to which one case is added in Australia and another in Canada.
The alarms jumped on Sunday after learning that the coronavirus has an incubation period of 14 days and that it is contagious before symptoms appear.
This would radically differentiate the new SARS virus or acute and severe respiratory syndrome that emerged in China in 2002 and resulted in the deaths of more than 700 people worldwide. The SARS was not asymptomatic, so it was easier to locate potential infected.
The Chinese authorities suspect that some 5,794 people could carry the virus, which was first identified in December.