The dead by the earthquake in Turkey increase to 31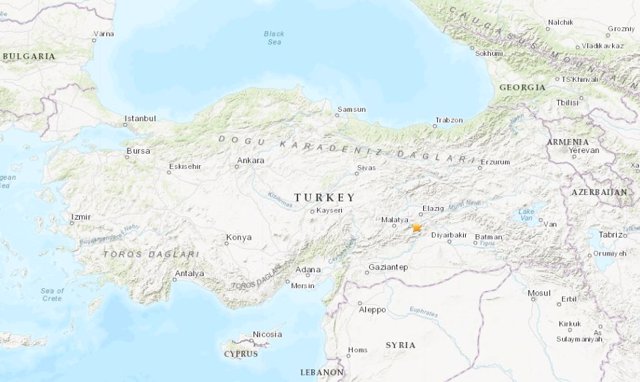 Earthquake in eastern Turkey. – USGS
MADRID, Jan. 26 (EUROPE PRESS) –
At least 31 people have died and there are already more than 1,500 injured due to an earthquake of magnitude 6.5 recorded on Friday night in eastern Turkey, according to the latest balance of this Saturday issued by the authorities of the country.
Specifically, 1,547 people have been injured, while emergency workers continue to rescue victims from under the rubble, as reported by the Turkish Emergency and Disaster Organization (AFAD) and collects the Turkish news agency Anadolu.
Thus, a total of 45 people have been rescued, including a 65-year-old woman who continued in the rubble 19 hours after the earthquake.
Most of the injured are concentrated in the epicenter of the earthquake, which occurred in the town of Sivrice, province of Elazig, according to rescue services. Elazig was already shaken in 2010 by a seism of magnitude 6 that resulted in the death of 51 people.
Preliminary information from AFAD placed the magnitude of the earthquake at 6.8, but shortly afterwards the Istanbul Earthquake Research Institute has reduced it to 6.5.
The president of Turkey, Recep Tayyip Erdogan, said that all the "necessary" precautions are being taken to overcome the earthquake so that the lowest possible losses occur and to ensure the safety of citizens, he transferred through his Twitter account. Erdogan showed his support to those who have died due to the earthquake and wished the injured a speedy recovery.
The president has subsequently moved to Elazig and has participated in the funeral of a woman and her son who died due to the earthquake. He has also visited the areas where buildings and hospitals in the region have collapsed.
Turkish Defense Minister Hulusi Akar announced that the Army is waiting and prepared in case his intervention is necessary, while the governor of Gaziantep province, in the southeast of the country, said there are no injuries No material losses in the region. The governor of Tunceli, Tuncay Sonel, said that the earthquake was felt in the province, but that it did not cause damage.