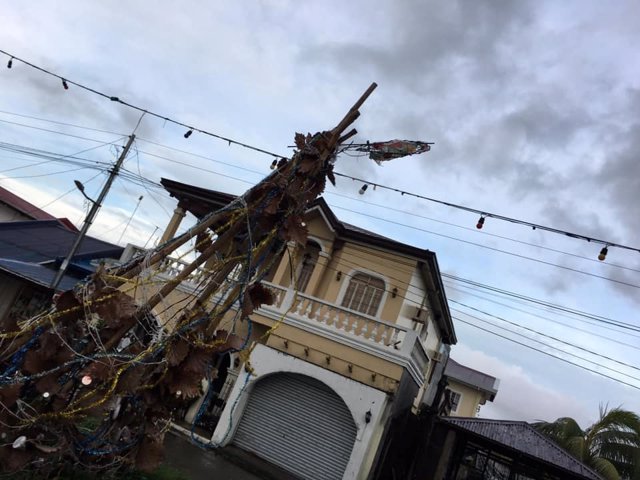 Typhoon 'Úrsula' in the Philippines – PAUL FIVE VIA REUTERS / SOCIAL MEDIA
MADRID, Dec. 29 (EUROPE PRESS) –
At least 47 people have died and 140 have been injured by the passage of typhoon 'Úrsula' during Christmas Day in the Philippines, according to the new balance published this Sunday by the National Council for Disaster Management, which figures in nine missing .
The typhoon, also known as 'Phanfone', has damaged nearly 300,000 homes, 372 schools and 31 hospitals in the eastern and central provinces, where more than 146,000 people have been evacuated, according to the latest balance, published on the organization's website. The total number of people affected is close to two million.
Among the deceased are three crew members of a motor boat that was shipwrecked in the province of Mindoro Oriental, a family of six people dragged by a flood in the province of Iloilo, as well as a 13-year-old boy and a 38-year-old man, electrocuted in two separate incidents in the provinces of Leyte and Leyte Sur.
'Úrsula', typhoon number 21 of the year in the Philippines, has registered winds of up to 130 kilometers per hour and gusts of up to 160. Although it has not been one of the most powerful, its passage has left a trail of destruction much more pronounced after devastating some of the poorest and least developed areas and islands of the archipelago.
At least 115 domestic flights have also been canceled and Filipino television has shown minor damage at Kalibo airport, one of the tourist alternatives in the center of the archipelago. For its part, the Ministry of Agriculture has made a first assessment of damages in the sector estimated at more than ten million euros.
Although the typhoon has already left the country, the authorities maintain the alert to the cold front that has left its trail, and that could cause new torrential rains, with the consequent floods, in the next few hours, as reported by the national meteorological office .