The dead are increased to 16 and more than 100 injured by the attack in Baghdad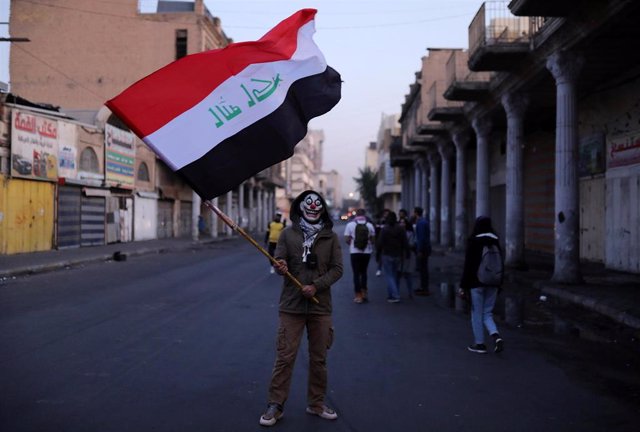 Protester in Baghdad – REUTERS / ABDULLAH DHIAA AL-DEEN
BAGDAD, Dec 7 (DPA / EP) –
There are already at least 16 dead and more than a hundred injured by the shooting on Friday in a square in Baghdad, the epicenter of protests against the Government, according to DPA agency sources.
Iraqi Army troops have deployed this Saturday in Al Jilani Square in the capital, Baghdad, one of the epicenters of protests against the government, after the shooting on Friday by a group of armed men, who has threatened to provoke Once again the chaos in the city.
The forces were deployed in the square and its surroundings to protect peaceful protesters, Baghdad al-Mahamdoui, the head of Operations of Baghdad, explained to the Iraqi state news agency INA.
The protests, which began in October and have resulted in at least 460 deaths, demand a total political reform in Iraq to end the endemic corruption in the country and the inequality in the distribution of oil benefits.
They also request the resignation of the Government in full, the dissolution of Parliament and, in general terms, the disappearance of the political system established after the invasion of the United States in 2003.
Most of the fatalities are a consequence of the repression exerted by the security forces, who have regularly used real ammunition to disperse the protesters.
The Government, in turn, has defended this response by ensuring that protesters included "hidden criminals" with the mission of initiating gunfire.
The political crisis has led to the resignation of Prime Minister Adel Abdul Mahdi to date. The president of Parliament, Mohamed Halbusi, asked the country's president, Barham Salí, on Tuesday to appoint a new prime minister, for which he will have 15 days. After that, a period of 30 days will open to form the new government.