The Damien Cycle and torrential rains add to the serious fires of Australia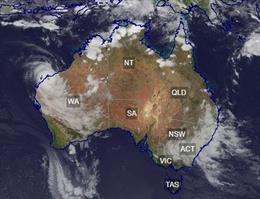 Storms in Australia – AUSTRALIA METEOROLOGICAL SERVICE
SYDNEY, Feb. 8 (DPA / EP) –
A storm with torrential rains is hitting eastern Australia, while in the west the country suffers a tropical cyclone, an emergency that adds to the severe fires that have ravaged the southwest of the country for weeks.
The storm 'Damien' has made landfall this Saturday in the Dampier-Karathha region, on the northwest coast of the country, classified as category 3 and has caused "very destructive winds" with gusts of up to 205 kilometers per hour and "very heavy rains ", according to the Australian Meteorological Agency.
Experts had predicted that it would reach category four, but so far it has not done so and it is predictable that it will weaken more and more as it progresses on land.
For this reason, the authorities have alerted residents in several coastal locations of the risks of waves, "with harmful waves and severe flooding," particularly in the Pilbara and Gascoyne regions. "There are many branches and leaves flying everywhere," said Karratha Mayor Peter Long, in statements to Australian television ABC.
While in South-West Australia, in Katanning, a new wildfire threatens homes and human lives, according to the Fire Service, which issued a high-level alert on the afternoon of this Saturday.
In the states of New South Wales and Queensland, in the east, where fires have ravaged millions of hectares since September, a new storm is causing winds, torrential rains, high-altitude waves and floods after two years of severe drought.
In some areas of New South Wales, up to 300 millimeters per square meter of rain have been collected in 48 hours and 150 millimeters have been recorded in Sydney since Thursday. "We have not seen anything similar since the late 90s," said the director of the state subsidiary of the Australian Meteorological Agency, Jane Golding. The rains will continue until Sunday, he warned.
The State Emergency Service has issued an alert for floods and winds with destructive capacity of up to 90 kilometers per hour. From Wednesday until Saturday this agency has received more than 2,600 notices.
The Rural Incident Service of New South Wales has informed that there are 38 active fires in the area that could be remitted due to the rain. "It is clear that we appreciate the rain, any amount of rain, but there are still fires and the fire season does not officially end until March 31," said a spokesman for the Service, Greg Allan, in statements to DPA.