The Constitutional Court of Peru releases Keiko Fujimori after 18 months of preventive detention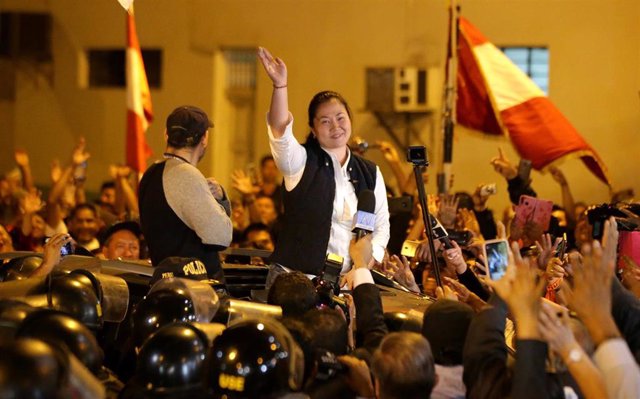 The leader of the opposition Force Nueva party, Keiko Fujimori, after being released from the jail in Lima where she served pretrial detention accused of illegally financing her party in the 2011 and 2016 election campaigns. – REUTERS / GUADALUPE PARDO
LIMA, Nov. 30 (EUROPE PRESS) –
The leader of the opposition Popular Force (FP) party, Keiko Fujimori, has been released from prison this Friday after being imprisoned for thirteen months because of the accusations that weighed on her for having financed her political formation illegally in the 2011 election campaigns and 2016 through the Brazilian construction company Odebrecht in exchange for favors and public contracts.
The Constitutional Court (TC), after approving an appeal of 'habeas corpus' presented by Fujimori's sister, ordered Monday his release from the prison in Lima where he was held after he was imposed in October last year a 18-month sentence, pending the trial he will have to face for alleged illegal funding of his party. Upon her departure, her husband, Mark Vito Villanella, her lawyer and some leaders of her party, such as Luis Galarreta, were waiting for her.
Moments before, some of Fujimori's followers who gathered at the doors of the prison had some confrontations with the Police, as the Peruvian newspaper 'El Comercio' has told.
"The TC has corrected a great deal of damage in a process full of abuse," Fujimori said when he left prison. After thanking her family, party partners and supporters for the samples of support received during the last months, the conservative opponent has announced that it will take time to recover and decide what she will do from now on.
"It is up to me to continue facing the investigation and continue collaborating with Justice. In those cases, 400 days I had the opportunity to reflect and I leave the prison to help thousands of men and women who are in prisons without sentencing," he said.