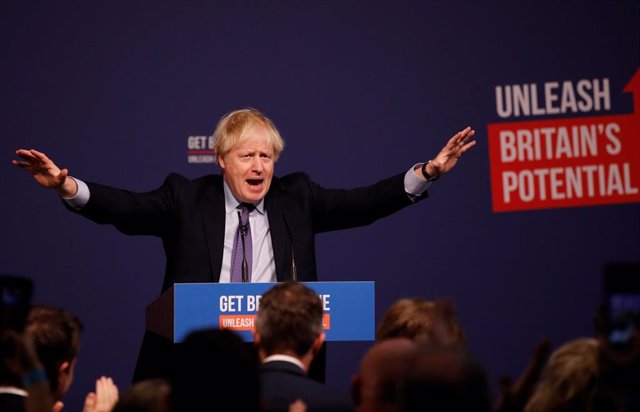 British Prime Minister Boris Johnson presents the conservative post-brexit manifesto in Telford – REUTERS / PHIL NOBLE
Citizens of the European Union could only access unemployment, housing assistance and childcare after five years of stay
LONDON, Nov. 24 (EUROPE PRESS) –
The post-Brexit manifesto presented this Sunday by the Conservative Party of the country's prime minister, Boris Johnson, proclaims that the British Government will not extend beyond 2020 the transition process for the exit of the European Union and promises an increase in spending on Defense, generalized tax cuts, a digital rate to international companies and maintain 80% of commercial income through free trade agreements.
According to the document presented today by the prime minister in the town of Telford, and under the slogan "Unleash the British potential", conservatives have pledged that the defense budget increases 0.5 percent annually above inflation every year of the legislature, while the new fiscal policy would contemplate cuts of 3,195 million pounds (about 3,719 million euros) by 2020/21, to 3,640 million pounds (about 4,200 million euros) in 2023 / 24.
These cuts would be compensated with measures such as the creation of a new "digital tax" to tax foreign technology companies, such as digital platforms or social media companies, with the aim that these organizations "pay just their share. ".
Regarding Health, the Conservative Party is committed to creating 50,000 new jobs in nursing, within an injection of funds for the British National Health Service with the ultimate goal of guaranteeing up to 50 million more consultations per year in the Family doctor consultations.
As far as social spending is concerned, the Conservatives commit to injecting 1,000 million pounds annually, while, in terms of environmental policy, the party ensures that the United Kingdom will reach the goal of "zero emissions" by 2050.
Likewise, the Conservative Party declares its intention to preserve 80 percent of international trade through the signing of a series of free trade agreements within three years, which will be accompanied by the opening of a dozen ports to such effect.