The conflict in Afghanistan leaves more than 100,000 civilians dead and wounded in a decade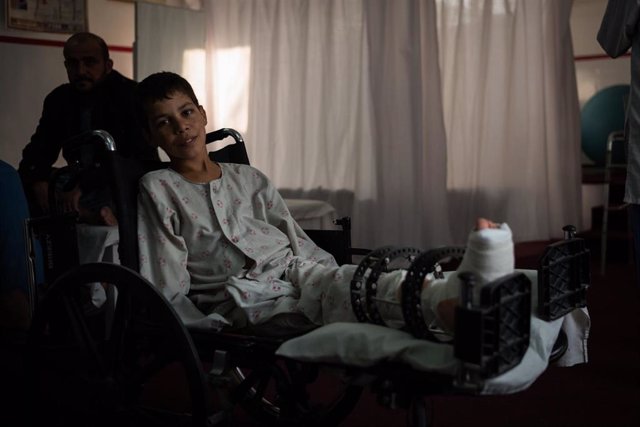 A child victim of an explosive device in Afghanistan – CONTACT – Archive
The UN calls for steps towards lasting peace in the country and reducing violence
MADRID, Dec. 26 (EUROPE PRESS) –
More than 100,000 civilians have been killed or injured in the last decade in Afghanistan as a result of the conflict, according to the UN special representative in the country, Tadamichi Yamamoto, on Thursday, in a message in which he appealed to peace .
"The war in Afghanistan continues to take a terrible toll on civilians," Yamamoto lamented, indicating that recently the number of "civilian victims" exceeded 100,000, after the UN Assistance Mission in Afghanistan (UNAMA) will start documenting them in 2019.
In this regard, he has argued that "peace is crucial for the future of Afghanistan" and has celebrated ongoing efforts to "move forward and achieve direct talks among Afghans themselves." Despite the "many challenges to face in any peace effort, the UN remains committed to supporting an Afghan-led process that respects the human rights of all citizens and leads to lasting peace," he said.
Yamamoto has insisted that regardless of the outcome of the September presidential elections, which according to the first official results grant re-election to Ashraf Ghani, "peace will be the most important issue for the new administration."
Therefore, he has called on all actors to "take genuine and concrete steps towards the end of the war, since there can be no military solution to the conflict in this country," defended the head of the UN in Afghanistan .
The United Nations, he added, considers it "essential" that women and youth participate in peace talks and have been working with communities to resolve disputes over land, water and other resources.
However, Yamamoto stressed, "only by ending the war can there be real hope for an Afghanistan with a prosperous future." "The hopes and aspirations of millions of Afghans, young and old, women and men, girls and boys, lie on the shoulders of those who are striving to end the war with a lasting political solution," he said.
Thus, on behalf of the UN, he has urged those who participate in the current "peace efforts to consider the millions of ordinary citizens, especially the victims of the conflict, who want an opportunity to live in peace (.. .) in a stable, fair and economically prosperous country and where your Human Rights are protected. "
"The United Nations urges all actors to seek ways to reduce the levels of violence, especially violence that harms civilians, on the road to a lasting political solution and a permanent ceasefire," said the head of UNAMA, stressing that reducing violence is "important for creating an environment" that facilitates conversations between Afghans.