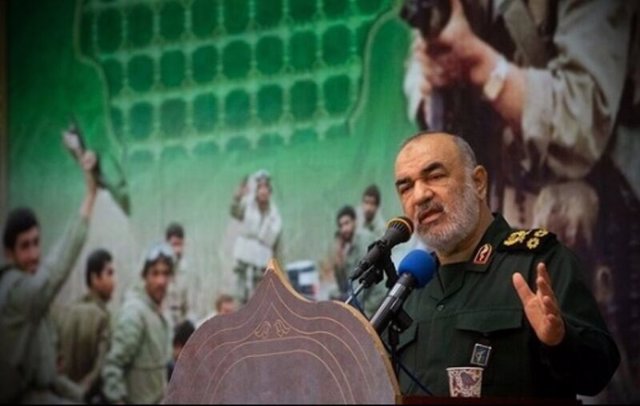 The commander of the Iranian Revolutionary Guard, Hosein Salami – IRNA – Archive
MADRID, Feb. 14 (EUROPE PRESS) –
The commander of the Iranian Revolutionary Guard, Hosein Salami, has warned the United States on Thursday that "the great and final slap is about to come, until the last American soldier leaves Muslim territories."
The commander of the Revolutionary Guards of Iran warns the US that "the great and final slap is coming"
This was expressed during a commemoration ceremony for the 40 days that have passed since the death of Iranian General Qasem Soleimani, commander of the Quds Force of the Revolutionary Guard, killed by the United States in an attack in the Iraqi capital, Baghdad.
Thousands of Iranians have attended the ceremony, as well as high-ranking government and military employees, including the main commanders of the Revolutionary Guard.
Iran's supreme leader, Ayatollah Ali Khamenei, promised the United States a "hard revenge" for the death of Soleimani. Days later, Iran responded by attacking two military bases in Iraq that house US troops. Khamenei called the attack "just a slap" and insisted that "the important thing" is to end the "seditious presence" of the United States in the Middle East.
On the other hand, Salami, who has praised the work of Soleimani, has referred to the alliance between the United States and Israel and has warned them that they will be attacked if they carry out "any wrongdoing," while emphasizing that Iran I had "done it over and over again."
He has also recommended that Israel not "depend on Washingon, since" it would be late or not present "to defend Tel Aviv, according to Press TV.
Soleimani died along with 'number two' of the Popular Mobilization Forces (FMP), Abu Mahdi al Muhandis, and several Iraqi militiamen.
After the Iranian attack in response, the Iraqi authorities strongly criticized the bombing against Soleimani and Parliament passed a motion demanding the expulsion of US troops from the country and forces the Government to commit to making public any agreement that will reach in the future for the presence of foreign military advisers and trainers.
In addition, the international coalition against the Islamic State announced on January 9 a "pause" in its military operations in Iraq in the face of increased tensions over the death of Soleimani, but Iraq announced on January 30 the resumption of operations.