The Colombian Prosecutor's Office asks that the security of the former FARC guerrillas be guaranteed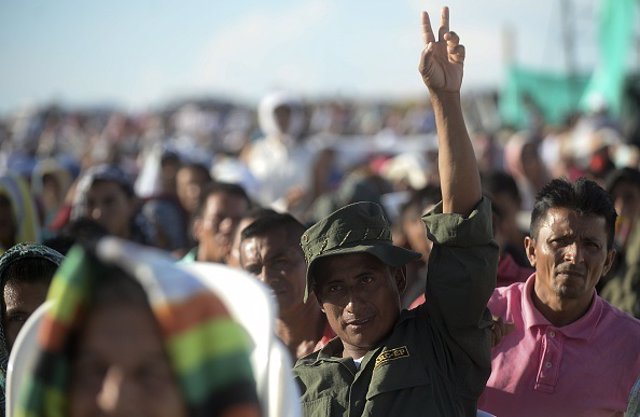 Members of the FARC during the retransmission of the peace agreements. – GETTY – Archive
MADRID, 5 Feb. –
The Colombian attorney general, Fernando Carrillo Flórez, asked the State officials, the Ministry of Interior and the National Protection Unit (UNP) on Tuesday to "not stigmatize" or "incite harassment" of former guerrilla fighters. Extinct Revolutionary Armed Forces of Colombia (FARC) that have joined the peace agreements.
Carrillo Flórez has asked the other prosecutors to investigate and intervene in cases of attacks, threats, attacks or homicides, against former guerrillas, who have reported an increase in attacks against him during the last dates.
So much so, that the FARC (Common Revolutionary Alternative Force) party has denounced that, so far this year, at least five people left their weapons to be subject to the peace agreements between the Colombian Government and The guerrillas have been killed.
The prosecutor has asked the Ministry of Interior and the Ombudsman more quickly to process reports about the possible risks and threats that former FARC members could face so that the Human Rights Prosecutor's Office can stop time these attacks against the safety of these people.
Regarding the UNP, the Prosecutor's Office has defended that "it must guarantee a gender approach, including differentiated protection measures that address the particular risks faced by women." In that sense, it has asked this body to speed up the times of risk assessment and subsequent protection measures.
At the same time, as the newspaper El Espectador has pointed out, the Ministry of Defense has been asked to adopt a specific strategy with which to protect those former guerrillas who have been returning to those most conflictive places in the country.
In conclusion, Prosecutor Carrillo Flórez has also requested the Office of the High Commissioner for Peace to take urgent measures to end paramilitary organizations and other armed groups, which have taken control of the areas in which the FARC operated. and that they attempt not only against the lives of former guerrilla fighters, but also against social leaders and peasants, as well as against human rights defenders.
Last 2019 it became "the most violent year" for the former FARC guerrillas since the signing of the peace agreement in 2016 that allowed the conversion of the armed group into a political party and ending more than half a century of armed conflict .
The United Nations put in 173 the number of former FARC fighters killed during these three years, to which 14 disappearances and 29 assassination attempts are added.
In 2019 alone 77 former FARC guerrillas were killed, compared to 65 of 2018 and 31 of 2017, which makes it the "most violent year" for them, according to the latest report of the Verification Mission of the ONU.