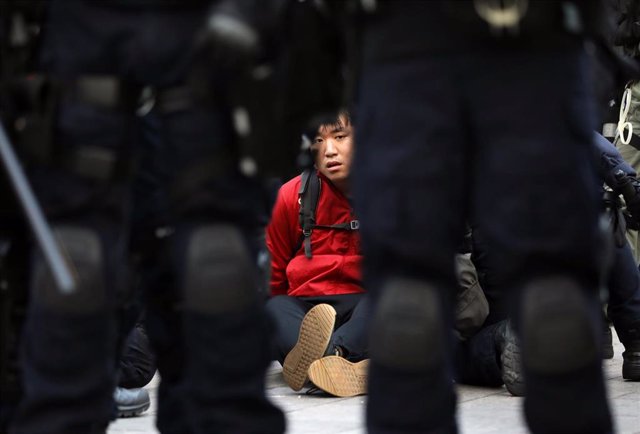 Arrested in Hong Kong protests – REUTERS / LEAH MILLIS
MADRID, Dec. 1 (EUROPE PRESS) –
The police and groups of protesters in Hong Kong have resumed hostilities after a week of calm after the victory of the pro-democratic opposition in local elections last weekend, considered a "plebiscite" against China's influence on judicial independence Of the territory.
Skirmishes have begun during one of the three marches scheduled for today, and he intended to address the U.S. consulate to express his gratitude to the American country after its president, Donald Trump, said last week that he had prevented Chinese military intervention in the territory
Another of the marches, under the slogan "So that we do not forget", has been convened to preserve the momentum of the protest movement that began in March this year with peaceful marches that eventually degenerated in June to regular clashes with the Police.
In the epicenter is the suspended extradition law for detainees to China, a regulation that violates, in the opinion of critics, the rights of detainees and the legal integrity of the territory, stipulated in the terms of the return to China in 1997 of British hands
However, most protesters have congregated to protest against police repression, such as the 200 attendees of the morning rally in the city center. Most have come with surgical masks and yellow balloons, with the slogan "No more tear gas" and "Dissolve the police force."
Although the marches have been authorized by the Police, the security forces have specified that the clashes occurred after the attendees left the stipulated route, something of which they were previously warned.
Police ended up firing two salves of tear gas around 4:45 p.m. on Salisbury Road, near the Space Museum, after some people threw objects at them, such as water bottles, witnesses from the 'South China Morning Post' report.