The clashes between police and protesters are unleashed during the latest protests in Hong Kong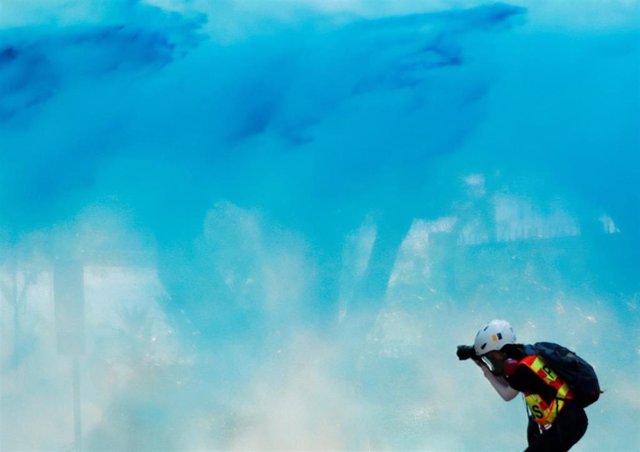 Dyed water cannons during Hong Kong protests – REUTERS / KIM KYUNG HOON
MADRID, Oct. 20 (EUROPE PRESS) –
Hong Kong Police have begun to disperse with blue-dyed water cannons to identify protesters throwing Molotov cocktails against the security device at the start of a new episode disturbances in the territory at sunset after the unauthorized march of this sunday.
The clashes, as has happened in recent weeks, have been concentrated in the immediate vicinity of police stations, subway, train and bus stations, and shopping centers.
Witnesses to the incidents have reported a huge fire on Waterloo Avenue and multiple barricades near Yau Ma Tei Station, Nathan Avenue – where the water cannon has operated – and Kowloon, according to the 'South China Morning Post '.
The transport service has been suspended throughout the territory due to fears that the march ends up going to the high-speed train station in West Kowloon, one of the main connections between the territory and mainland China, whose government is the objective Last of these protests.
The trigger for the protests in Hong Kong was a proposal now withdrawn to allow extradition of criminals to China, as well as to Taiwan and Macao.
More than 2,600 people have been arrested since protests increased in June. Since then, the protesters' demands have also increased well beyond opposing the extradition proposal. Now they also express concern that Beijing is eroding the freedoms granted when the United Kingdom returned the city to China in 1997.
The Chinese government denies such accusations and has blamed foreign countries such as the United States and the United Kingdom for inciting the riots.
Protesters say they will continue to demand that the Government address their universal suffrage demands, an independent investigation into police behavior, amnesty for the accused and stop describing protesters as agitators.