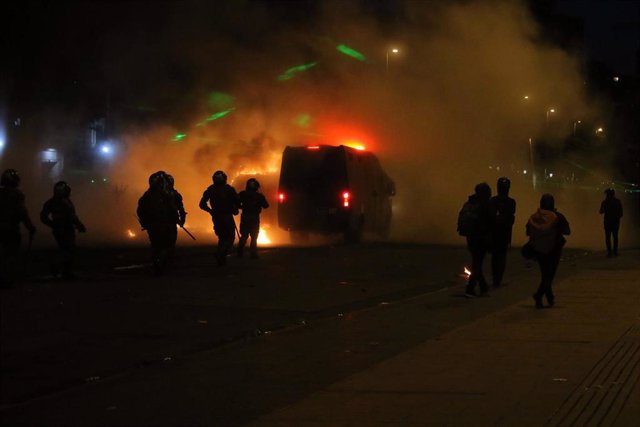 Riots in Chile – MAURICIO MENDEZ / AGENCIAUNO / MAURICIO MENDEZ
SANTIAGO, Dec. 21 (EUROPE PRESS) –
The Socialist Party of Chile (PS) has demanded the resignation of the metropolitan mayor of Santiago de Chile, Felipe Guevara, for authorizing the deployment of a thousand carabineros in Plaza Baquedano, which resulted in serious incidents, including the outrage of a young protester. In addition, the Socialists demand that the Government dismiss the General Director of Police, Mario Rozas.
The PS has expressed "our strong condemnation of police repression against peaceful demonstrations of citizenship." "The act of extreme and unacceptable violence against the young Óscar Pérez gives an account of the absolute and total lack of control of the actions of the Special Forces of Police," said the party.
"General Rozas has direct responsibility for these condemnable acts and, therefore, his tenure becomes unsustainable," he continues.
From the Social Unity Table – the main convener of the protests that have shaken Chile for weeks – go further and have announced that they will complain against Guevara, whom they accuse of "State terrorism."
Esteban Maturana, Social Unit leader, explained that they will present the complaint "for having made use of force with a sense of state and criminal terrorism." "We can even accuse him of quasi-crime of murder," he stressed.
Protests in Chile broke out on October 17 against the fourth rise in the price of the subway in a few months and grew rapidly to denounce social inequality and raise the need to elaborate a new Constitution.
The president of Chile, Sebastián Piñera, who came to declare the state of emergency deploying to the Armed Forces, apologized for not hearing the clamor of the Chileans and proposed a "social agenda." To make it a reality, it has remodeled the Government and initiated a dialogue with the political parties, both opposition and official.
In these weeks, at least 19 people have died from clashes between protesters and security forces and over a thousand have been arrested. The National Institute of Human Rights (NHRI) has denounced torture and other abuses against people detained in the context of the protests.