The Chilean Government raises the death toll from protests to 19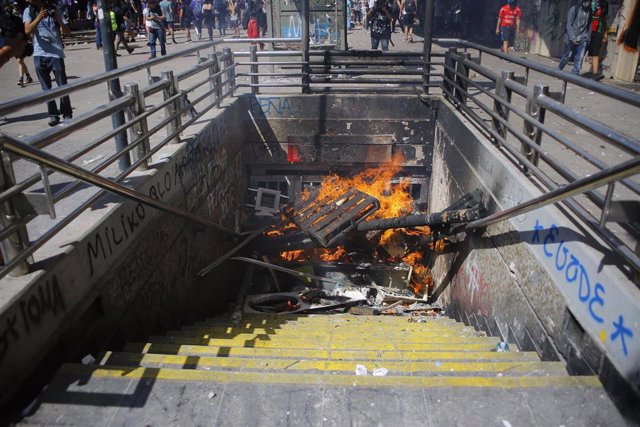 Fire at the entrance to the Baquedano metro station – AGENCIAUNO / SEBASTIAN BROGCA
SANTIAGO, Oct. 25 (Agency One / EP) –
The Chilean Ministry of Interior has confirmed on Friday the death of a Peruvian citizen wounded on Tuesday in the context of protests against the Government, which already killed 19 during riots that led the president, Sebastián Piñera, to decree the state of emergency.
The Chilean authorities have identified the last victim as Juan Coro Conde, who was admitted since Tuesday at the Sótero del Río hospital, in the Santiago metropolitan region. Count suffered a gunshot wound during the looting of a local in the area of ​​Puente Alto, after the store owner opened fire.
The Association of Supermarkets has assured this Friday that a quarter of the establishments have suffered some damage in the last week. Specifically, 342 stores have been looted, according to the guild, which has also confirmed 33 cases of fire.
The Government, however, has reported a downward trend in violent incidents. On Thursday, the authorities had evidence of at least 126 facts and, until 9.00 (local time) on Friday, had confirmed at least 61.
The Executive put 101 civilians and 58 police and miliares on Thursday's balance of injuries, a day in which 735 people were arrested. As for the demonstrations, he estimates that Thursday's protests – a total of 55 – gathered about 102,000 people, 320,000 less than the day before.