The Chilean Government lowers its expectation of economic growth due to protests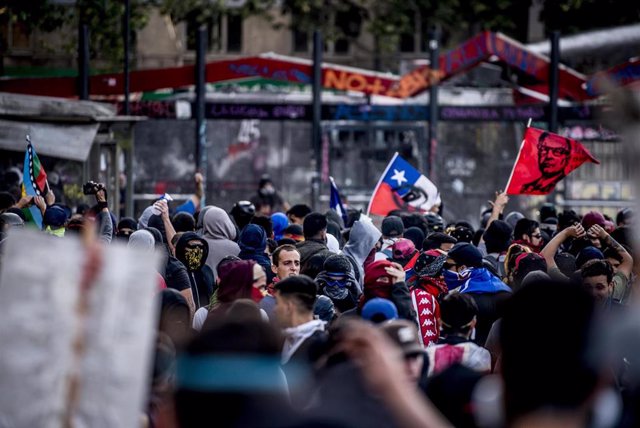 Protests in Santiago de Chile against the Government of Sebastián Piñera – Ana Karina Delgado
SANTIAGO, 4 Nov. (Agency One / EP) –
The Chilean Finance Minister, Ignacio Briones, announced Monday that the country's economic growth will be lower than expected due to protests in recent weeks, which have affected economic activity in major cities such as Santiago or Valparaíso.
"We see the closure of growth this year falling from 2.6, which was the estimate we had, to a range between 2 and 2.2 percent," Briones said in statements to the Chilean press from the Palace of the Currency.
Briones explained that the third quarter closed with a growth of 3.3 percent, "which is consistent with the trend towards an improvement that the Chilean economy was experiencing."
However, in the fourth quarter "the situation will be completely different, as a result of the events that we have all known and that have generated that many activities are working at half machine," he anticipated. "This will obviously mark a decrease in economic activity," he stressed.
Thus, he has asked the GDP Committee to make an "evaluation" to determine "if its structural estimate changes or is maintained." "We are going to reflect all this in a very transparent way in the budgetary discussion in Congress," he said.
The Chilean employer has estimated in more than 1,400 million dollars the economic losses by the protests, while the damages caused in the infrastructure of the subway of Santiago rub the 400 million dollars.
Along the same lines, the Foreign Minister, Teodoro Ribera, has admitted that, "when a country has these levels of violence, it obviously generates uncertainty abroad," which it does "affects tourism and makes people rethink investments. ".
However, the head of Chilean diplomacy has stressed, in an interview with Tele13 Radio, that to date "no country has raised a concern for Human Rights."
At times like these "the image of the country tends to change. Now, if the country talks, if the country achieves medium and long-term agreements, it is undoubtedly attractive again," Ribera said.
Protests in Chile erupted on October 17 against the fourth rise in the price of the subway in a few months and grew rapidly to denounce social inequality and raise the need to develop a new Constitution.
The president, Sebastián Piñera, who came to declare the state of emergency deploying to the Armed Forces, apologized for not hearing the clamor of the Chileans and proposed a "social agenda." To make it a reality, it has remodeled the Government and initiated a dialogue with the political parties, both opposition and official.
In these weeks, at least 19 people have died from clashes between protesters and security forces and over a thousand have been arrested. The National Institute of Human Rights (NHRI) has denounced torture and other abuses against people detained in the context of the protests.