The Chamber of Deputies of Bolivia approves the law for general elections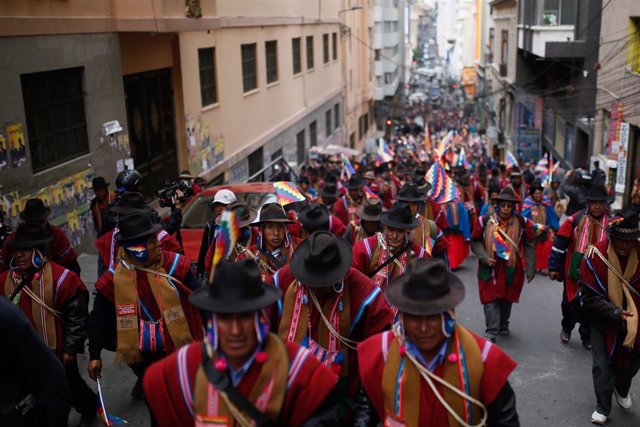 Protests in Bolivia. – Gaston Brito / DPA
MADRID, Nov. 24 (EUROPE PRESS) –
The Chamber of Deputies of Bolivia has approved this Saturday the Draft Law on Exceptional and Transitional Regime for the convening and holding of new general elections in the country, so it has already been referred to the self-proclaimed interim president, Jeanine Áñez, that the It will promulgate this Sunday at 10.00 a.m.
"Not having major considerations, this law is sanctioned, refer to the Executive Branch for constitutional purposes," said the president of the Chamber, Sergio Choque, at the end of the session, has collected the Bolivian news agency ABI.
Previously, the law, which consists of 24 articles and five final provisions, has been approved by the Bolivian Senate unanimously.
The senator for the Movement To Socialism (MAS) Ciro Zabala, part of the Senate Constitution Commission that presented the draft, has highlighted the relevance of this rule.
"The Law of this law has an exceptional and transitory regime. It is strictly for the current situation, which has the obligation to appease the country and that we can live among Bolivians instead of killing each other," Zabala said in his speech at the plenary, according to the Bolivian news agency Fides.
President Evo Morales, of the MAS, resigned on November 10 after the Organization of American States (OAS) confirmed "irregularities" in the presidential elections of October 20, whose official results granted him a fourth term.
Days later he arrived in Mexico, where he is in the capacity of political asylum. The former tenant of the Burned Palace denounces that he has been the victim of a "coup d'etat" and, consequently, does not recognize his interim successor, Áñez.
In this month of protests, more than 20 people have died and more than 700 have been injured. The great conflict in El Alto has prevented fueling La Paz, which has generated a shortage of basic products, including food.