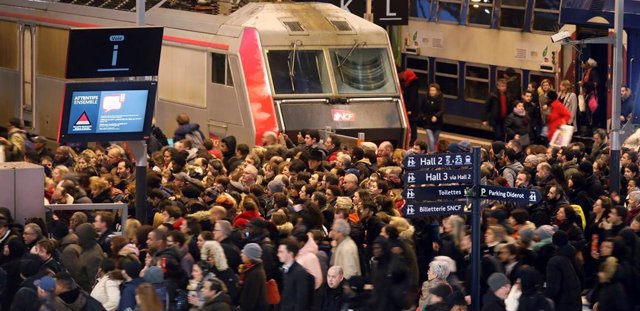 Indefinite transport strike in France – REUTERS / CHARLES PLATIAU
PARIS, Dec. 15 (Reuters / EP) –
The French union of the General Confederation of Workers (CGT) has warned this Sunday that it will double the mobilization unless the Government of President Emmanuel Macron does not withdraw its proposal to reform the pension system within one week.
"The Federation of Railways, Transportation, Mines, Energy and Chemical Industries the CGT says that the Government has a week to announce the withdrawal of its project and the resumption of genuine negotiations for the improvement of the current system," the union said in a release.
"If the prime minister persists in his statement that 'the country is being disturbed, but not blocked', workers in the public and private sectors will conclude that they must redouble their mobilization, multiply the strike calls in all companies and increase the level of protest, "he added.
The Prime Minister, Edouard Philippe, explained in statements to 'Le Parisien Dimanche' that he has the door open to negotiate and that he will meet next week with the unions.
France has been mired in transport chaos since last December 5, when an indefinite strike of the sector began that mainly affects the train and metro network.
The unions have called a new demonstration on Tuesday to protest against the reform of the pension system that aims to unify a complex system and provides as one of the most significant measures to add two years to the figure that must have been quoted to receive a full pension .