The CGT refuses to depose the indefinite strike and makes a new appeal to the French to support it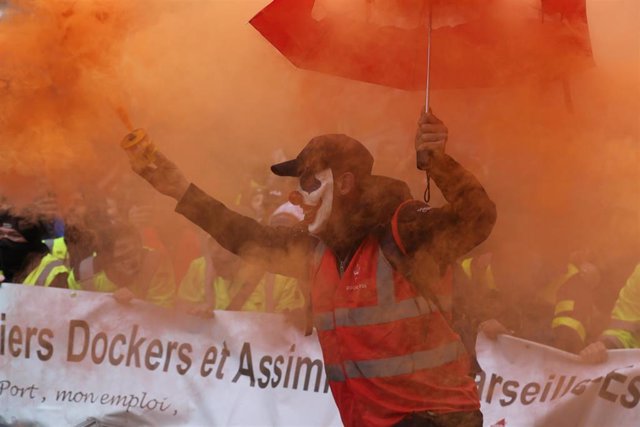 Demonstration against pension reform in France – LOUAI BARAKAT / IMAGESLIVE VIA ZUM / LOUAI BARAKAT
PARIS, Jan. 1 (EUROPE PRESS) –
The general secretary of the French General Confederation of Workers (CGT) union, Philippe Martinez, has rejected on Wednesday that there are options to call off the indefinite general strike that began last December 5 in protest against the reform of the pension system and has made a new call to the population to join the protest.
Specifically, he referred to the New Year's speech by the French president, Emmanuel Macron, and reproached him for not having raised "anything new" beyond good wishes. Thus, it has demanded the withdrawal of the project as a previous step to open a negotiation, something unlikely in view of the position shown by Macron so far.
"We are still asking to stop this reform project, its withdrawal, and work seriously to improve the current system," Martinez said in an interview with French television BFMTV.
Martinez has also proposed to boost the strike, which until now mainly affects public transport, as of Monday. "Since Monday … we have called to hold general assemblies and discuss the mobilization (…). Strikes are needed everywhere, in the public sector, in the private sector," said Martinez.
One of the objectives of the union is to achieve the stoppage of the eight oil refineries in the country, but has denied that they seek to prevent the French from working if they want to.
"We call on all French people to mobilize, to demonstrate and to strike … To face a president of the Republic paid for himself and who believes that everything is fine in the country," he argued. "He is locked in his bubble (…). There are no demonstrations, there are no 'yellow vests', there are no strikes, there is no poverty, …", he has riveted.
The unions protest against the proposal of labor reform of President Emmanuel Macron, which provides for the abolition of the special regimes of sectors such as the railroad and forces them to work for more years and up to 64 to get a full pension. In response, on December 5 an indefinite general strike began that has paralyzed a good part of the transport.