The Carabineros director says "not to be the right one" to talk about complaints of human rights violations in Chile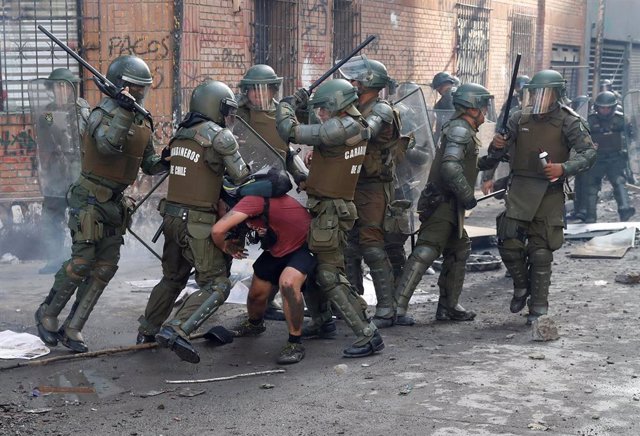 Carabineros Corps agents reduce a protester during protests in Santiago, Chile. – REUTERS / GORAN TOMASEVIC
He defends that the protocols were followed and affirms that it will be the courts that pronounce
MADRID, Dec. 6 (EUROPE PRESS) –
The Carabineros director, Mario Rozas, said Friday "not to be the best one" to comment on the allegations of human rights violations during the repression of protests in Chile and has argued that the protocols were followed.
Rozas, who has appeared during the day in the commission that analyzes the constitutional accusation against the president, Sebastián Piñera, has refused to rule directly on the allegations and has argued that "that will have to be determined by a court."
"We have acted fulfilling a constitutional mandate as police to maintain order and security," he said, as reported by the local newspaper 'La Tercera'. "We have acted in compliance with our action protocols," he added.
On the other hand, both he and the Minister of Defense, Alberto Espina, have defended Piñera's behavior and have argued that it "was exactly the opposite of the one indicated in the indictment."
In this sense, Rozas has stressed that Piñera "has always given instructions in general in carrying out all these actions within the legal field and respecting Human Rights." "He has been very emphatic in that," he added.
He has also confirmed that Carabineros has "more than 400 summaries" for injuries caused by firing shotguns against protesters and has argued that the agency is "the most interested in this being established legally and administratively."
The National Institute of Human Rights (NHRI), as well as Human Rights Watch (HRW) and Amnesty International, have accused police and armed forces of committing human rights violations in repression of protests, attributing at least five of the 22 deaths that have occurred in this context.
Carabineros has rejected such accusations and, in particular, has clarified that "there are no people killed due to the use of firearms" of their troops. However, the Government has recognized the need to reform the security corps and provide it with non-lethal weapons as riot gear.
Protests in Chile broke out on October 17 for the fourth rise in the price of the subway in a few months and quickly escalated to denounce social inequality and demand a constitutional change.
The Piñera Government initially responded with the state of emergency but ended up asking for forgiveness. It has prepared a "social agenda", has reformed the Executive to carry it out and has agreed to a constitutional process that will start in April.