The British Government expects Parliament to ratify the Brexit agreement on Thursday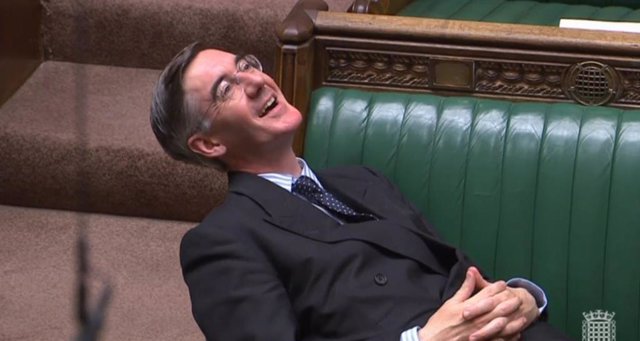 Conservative spokesman in Parliament, Jacob Rees-Mogg – – / House Of Commons via PA Wire / d / DPA – Archive
The opposition claims that three days of debate are not enough to examine the text
LONDON, Oct. 21 (EUROPE PRESS) –
The conservative spokesman in the British Parliament, Jacob Rees-Mogg, announced on Monday that the government intends to process in just three days the parliamentary ratification of the new version of the Withdrawal Agreement agreed by London with Brussels although it would normally take weeks, a fact that has already been criticized by the opposition.
The objective is to vote on the approval of the initiative next Thursday and for this they could force three marathon sessions on Tuesday, Wednesday and Thursday that could be extended until midnight, a schedule that the House of Commons could refuse to accept, as explained by the head of the BBC parliamentary delegation, Laura Kuenssberg. The proposed agenda will be voted on Tuesday.
The Conservative Party does not have a majority in the House of Commons, so it will depend on the support of deputies from other formations to carry out this ratification. To this end, Rees-Mogg has explained that they have their government partners, the Norwegian Unionist Democratic Party (DUP), finally agree to vote in favor despite criticism of the agreement, since they consider that it moves the border to the sea of Ireland and "delivers" Northern Ireland to the policy of the Republic of Ireland.
Thus, Rees-Mogg has warned that voting against the Withdrawal Agreement means voting against the United Kingdom's departure from the EU on October 31, the last date agreed between Brussels and London.
In response, DUP deputy Jeffrey Donaldson has argued that he will not support ratification and has denounced that the proposed debate schedule "does not do justice to what the voters I represent need."
The Labor Party spokeswoman, Valerie Vaz, has reproached the Government after knowing the initiative that "in each of the phases has fled scared of this House and democracy and is now trying to force it with its failed Brexit agreement that sells jobs work, rights and our communities. "
Also the spokesman of the Scottish Nationalist Party in Westminster, Ian Blackford, has asked the Government "not to enter as an excavator" in Parliament and time for a "complete scrutiny" of the proposal.
In any case, the processing of the Law of the Withdrawal Agreement will allow the deputies to introduce modifications to the text of the initiative, which opens up a wide range of possibilities, including the convening of a second referendum on Brexit.