The British Government confirms that it will propose Monday to vote the law of Brexit in the Commons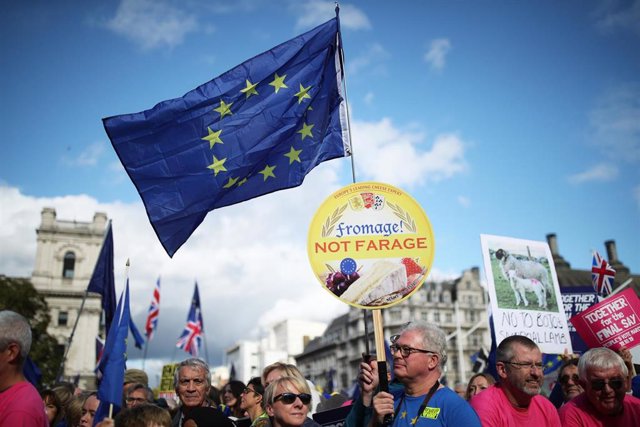 Protests against Brexit in London – Yui Mok / PA Wire / dpa
LONDON, Oct. 21 (EUROPE PRESS) –
The Government of the United Kingdom has confirmed that it will present this Monday before the House of Commons the law that will regulate the departure of the European Union, an essential requirement for deputies to give their approval to the plan negotiated last week by the 'premier' Boris Johnson
The Letwin amendment passed on Saturday in the Lower House of the British Parliament conditions any approval of said plan to process the Withdrawal Agreement Act, which forced Johnson to reluctantly request an extension of the divorce – it would already be the third – – to the European Union.
The ministry responsible for Brexit has confirmed that this Monday will try to make the House of Commons rule on the law, waiting to see if the president of the legislative body, John Bercow, authorizes or not such vote. Bercow already laid down an initiative of the Government of Theresa May to understand that the same content could not be put to the vote several times.
"The deputies will have before them today a law that will allow Brexit to become a reality on October 31, which protects the employment and integrity of the United Kingdom and allows us to advance in the priorities of citizenship such as health, education and crime", highlighted in the note the minister for the exit of the EU, Steve Barclay, as reported by 'The Guardian'.
The Executive, which does not yet have a clear majority in Parliament to move forward with the text, has as its main argument that the new agreement "eliminates the 'backstop'", the emergency plan initially proposed to avoid a 'hard border' on the island of Ireland
The Barclay Ministry has advocated "respecting the results of the referendum" of June 2016 and settle once and for all parliamentary procedures, so that the United Kingdom can leave the community bloc at the end of the month in an orderly and friendly way ".