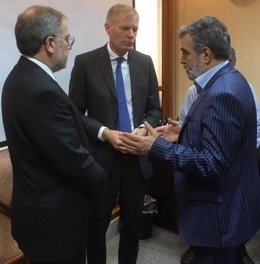 British ambassador to Iran, Rob Macaire, in a colloquium in Tehran – TWITTER ROB MACAIRE
MADRID, Jan. 15 (EUROPE PRESS) –
The British ambassador to Iran, Rob Macaire, has left the Islamic Republic hours after a spokesman for the Judiciary, Gholam Hosein Ismaili, said he should be expelled for participating in an illegal rally against the Iranian authorities.
The British ambassador leaves Iran after the regime threatened to expel him
Iranian news agency Tasnim has reported in a brief message on Twitter that the British diplomatic representative has left Iran, without giving further details. The ambassador's departure comes after he was arrested on Saturday for about 30 minutes for having participated in a rally before a university in Tehran.
The Iranian authorities maintain that the concentration was an illegal protest against the regime while Macaire defends that he only participated in a vigil in memory of the 176 people killed in the demolition of the passenger plane on January 8.
On Tuesday, the spokesman for the Iranian judiciary said the British ambassador should be declared "persona non grata" for having breached international law by meddling in internal Iranian issues with his participation in an illegal concentration against the Iranian authorities. "The (Iranian) people expect the person to be expelled and that is also what defends international law," he said.
The Iranian Police have disseminated images in which the British ambassador to Tehran can be seen participating in a rally. The ambassador was detained for about 30 minutes by the Iranian Police on Saturday on suspicion of having "instigated and organized" an anti-government rally in front of Amir Kabir University in Tehran.
Following the arrest, British Foreign Minister Dominic Raab denounced in a statement that the arrest was a "flagrant violation of international law." "The Iranian government is at a crossroads. It can continue its march to be a pariah state, with all the political and economic isolation that entails, or it can take steps to reduce tensions and address the diplomatic path to move forward," said the chief of British diplomacy.