The Bolivian TSE ensures that the results of the elections are "sacred" and that they will be "respected"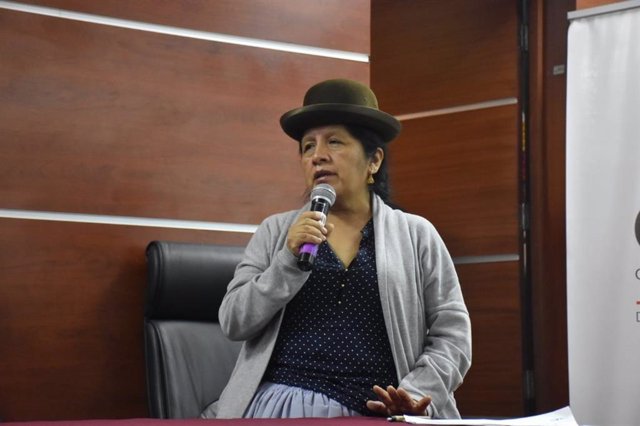 The president of the Supreme Electoral Tribunal (TSE) of Bolivia, María Eugenia Choque – ABI
MADRID, Oct. 31 (EUROPE PRESS) –
The Supreme Electoral Tribunal (TSE) of Bolivia has assured Wednesday that the results of the presidential elections held in the country on October 20 are "sacred" and that they will be "respected."
"The voting and the results of the election are sacred and will be respected, because it is the sovereign popular will," said the agency's spokesman, Idelfonso Mamani, who has urged politicians to be "responsible" for the allegations.
Mamani has indicated that the data of the elections were verified and that "there is no possibility of error", according to the newspaper 'The Duty'.
For its part, the president of the TSE, María Eugenia Choque, stressed that "the ghost of fraud did not exist." "Let's stop this degree of violence. We are facing brothers and sisters, for bad information, for distorted information," he stressed.
"Our actions were within the framework of the provisions of the law, transparency and commitment," said the president of the agency.
Likewise, the TSE has explained that they have been slow to respond to allegations of irregularities because they wanted to substantiate each situation. In addition, he has informed that tomorrow a meeting will be held to prepare for the review that will begin the Organization of American States (OAS).
"I want to reaffirm that the electoral process of October 20 was transparent, I reiterate it again. Audits can come from everywhere, we are prepared, because the process has been carried out in the framework of transparency," said Choque.
The crisis broke out on the night of October 20 due to the sudden suspension of the transmission of the results of the presidential elections held that day just when they forced a second round between the president, Evo Morales, and the main opposition candidate, Carlos Mesa.
The end of the scrutiny has awarded the victory in the first round to Morales, but Mesa believes that the official results are the result of a "gigantic fraud." At first he claimed a second round, but now he directly asks for the annulment and repetition of the presidential elections.
In this week, both sides have called for the mobilization of their supporters, which has resulted in clashes in the streets and burning of electoral courts.
Morales has agreed to audit the votes and on Wednesday he has announced an agreement with the OAS to start the recount on Thursday. However, Mesa has rejected the audit because the "current terms" have been agreed "unilaterally."