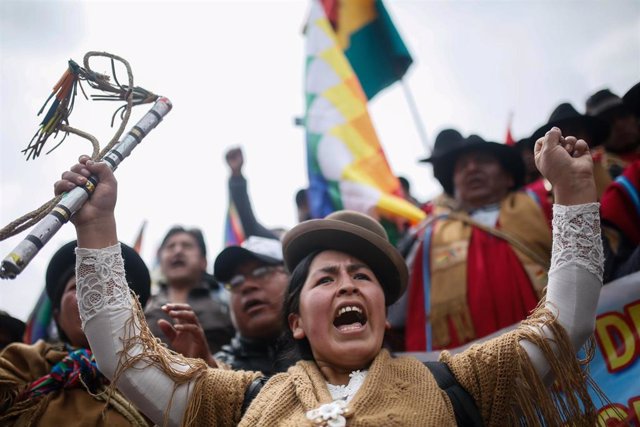 Protests in Bolivia. – Gaston Brito / DPA – Archive
MADRID, Jan. 11 (EUROPE PRESS) –
The Chamber of Senators of Bolivia, whose majority is made up of members of the party of former President Evo Morales, Movement to Socialism (MAS), has approved this Friday the law that guarantees the "full" enforcement of rights for social, civic and political leaders , also for those who are abroad, after the protests that followed the elections of October 20, which caused a political crisis in the country.
The Bolivian Senate approves the law of political guarantees for social, civic and political leaders
The dialogue table that was established after the mobilizations, which had the participation of the Government, social organizations and legislators, agreed on the bill to provide guarantees of security and political rights, as well as to ensure that a possible prosecution of dignitaries was made by constitutional and legal means.
The initiative was returned to the Congress of Deputies, where it was approved on December 6 because there were modifications. The Government of the interim president Jeanine Áñez rejected the law and threatened not to promulgate it when it was passed in Congress on the grounds that it implied "impunity" for former members of the Government and leaders "linked to crimes."
Specifically, article seven establishes that "the State, through its competent bodies and institutions, shall guarantee the full exercise of the constitutional rights, freedoms and guarantees for Bolivians and Bolivians, foreigners and foreigners residing in Bolivia, including to the social leaders, union leaders, civic and political leaders, as well as people mobilized from the countryside and the city throughout the national territory, "according to the local newspaper 'La Razón'.
The president of the Senate, Eva Copa (MAS), explained that the approval of the law complies with the agreements reached in the negotiations to pacify the country.
"It is important for us to comply with these agreements around being able to guarantee … that there will be no political persecution for our leaders and release detainees who have not had due process," he said. "It is the solution to pacify the country and there are no more conflicts", has settled.
For their part, the senators of the Democratic Unit (UD) and the Christian Democratic Party (PDC) have left the session and have considered that the law is "vitiated."
"We have withdrawn from the session because of the change in the agenda because the MAS tries to introduce a version of the Constitutional Guarantees project to be analyzed," said Senator Oscar Ortiz, the newspaper 'Los Tiempos' reported.
In addition, Ortiz, who has advanced that they will contest the session, has specified that the bill was submitted by the Cup itself to three ministries so that they can make observations that have not yet been considered.
Morales resigned on November 10, after the Organization of American States (OAS) detected "irregularities" in the October 20 presidential elections. He denounces that he was the victim of a coup d'etat, so he is a refugee in Argentina, although he previously recalled in Mexico and briefly in Cuba.