The Bolivian Government blames the Church and NGOs for accusations of electoral fraud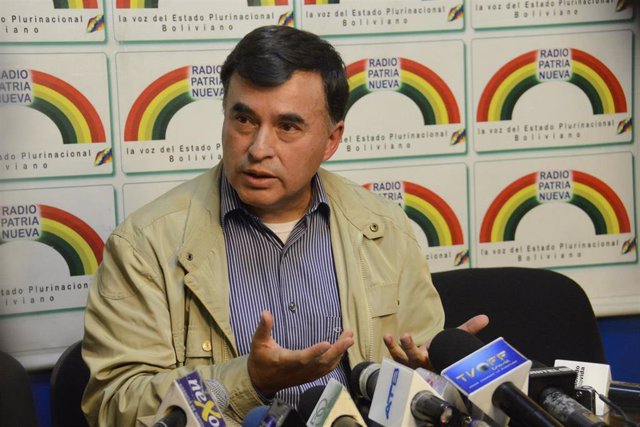 The Minister of the Presidency of Bolivia, Juan Ramón Quintana – ABI
MADRID, Nov. 3 (EUROPE PRESS) –
The Minister of the Presidency of Bolivia, Juan Ramón Quintana, has pointed out to the Catholic Church, opinion leaders and some NGOs to boost accusations of electoral fraud in the elections of October 20 in which President Evo Morales achieved the Direct reelection in the first round.
"Fraud is an alibi that was installed a long time ago in the media, on social networks, through contracted opinion makers, non-governmental organizations with foreign funding, the Catholic Church aligned with the right," said Quintana in an interview with the Russian news agency Sputnik.
In response, the Bolivian Episcopal Conference (CEB) has rejected these accusations. "The General Secretariat of the Bolivian Episcopal Conference categorically denies the false statements of the Minister of the Presidency of the Plurinational State of Bolivia, Juan Ramón Quintana, that the Catholic Church would be responsible for promoting accusations of fraud in the general elections of Bolivia," CEB said in a statement released this Saturday.
"The minister's statements are totally false and lack any real foundation. They are accusations made against the Church or other institutions in Bolivia, free of charge with the sole purpose of undermining their credibility," added the CEB.
In that sense, he argues that the Catholic Church in Bolivia "has not carried out or inspired any action or reflection that was intended to promote or finance accusations of electoral fraud in the country," instead claims its "pacifying role and service to the concord and democracy in the country. "
For all these reasons, they demand that the minister present evidence of his statements or retract them, "since with them he is offending the feelings of the Catholic people of Bolivia."
"It is important that there is more capacity for self-criticism and humility in our authorities to fulfill the role of instruments of unity and peace that Bolivia needs at this time," they added. Finally, they have called the population to calm and serenity, "since violence does not solve anything."
Evo Morales was declared the winner of the elections by the Supreme Electoral Tribunal (TSE) with 47.08 percent of the votes, while his main rival, Carlos Mesa, was in second place with 36.51 percent of the votes .
Bolivian electoral legislation establishes the direct victory in the first round of the candidate who achieves more than 40 percent of votes and ten points of advantage over his rival, which would give Morales a direct victory without the need for the second round required by the opposition and organizations such as the OAS.
The alarms jumped during election night when the Preliminary Election Results Transmission (TREP) system was interrupted for more than 23 hours. Upon resumption, there was a change in favor of the ruling party that many call "inexplicable."