The Bolivian Congress approves the latest rules to start the selection of the new Electoral Tribunal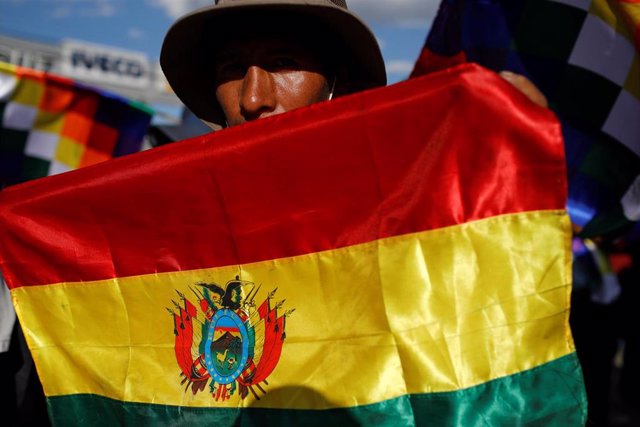 Follower of Evo Morales with a Bolivian flag in Cochabamba – REUTERS / MARCO BELLO
MADRID, Nov. 28 (EUROPE PRESS) –
The Legislative Assembly of Bolivia has approved this Thursday the regulation and the call for the selection of the new members of the Supreme Electoral Tribunal (TSE), a previous step for the celebration of new presidential elections that settle the political crisis unleashed by those of the 20 of October.
"We approve the regulation and the call for two-thirds," announced the president of the Chamber of Deputies, Eva Copa, indicating that the official publication will be made on Friday.
"We are waiting for all Bolivians and Bolivians who want to present themselves because as of tomorrow (Friday) the requirements will be published in newspapers and they will be able to see what they are and present themselves," Copa explained, according to the ABI news agency.
Those interested may submit their candidacy within eight days, starting Monday, after which a parliamentary commission will be responsible for filtering the candidates. To do this, you will have 20 days.
The formation of a new TSE is an indispensable requirement to convene a new presidential election, in accordance with an agreement reached by supporters and detractors of former President Evo Morales in Congress.
Said agreement expressly vetoes an eventual candidacy of Morales and his vice president, Álvaro García Linera. For now, opposition leader Carlos Mesa, who was second on October 20, according to official results, has announced that he will repeat at the polls.
The crisis broke out after the presidential elections of October 20, in which Morales proclaimed his victory but the opposition denounced a "gigantic fraud." The Organization of American States (OAS) audited the electoral process in which it found "irregularities."
Morales resigned on November 10 and fled to Mexico. Jeanine Áñez, second vice president of the Senate, proclaimed herself interim president to fill the power vacuum left by the former president and the resignation of other senior officials.
Neither Morales nor his followers recognize Áñez because they believe that his stay at the Burned Palace is the result of a "coup d'etat". She, for her part, has asserted that she will only be in office for the time necessary to call new elections.