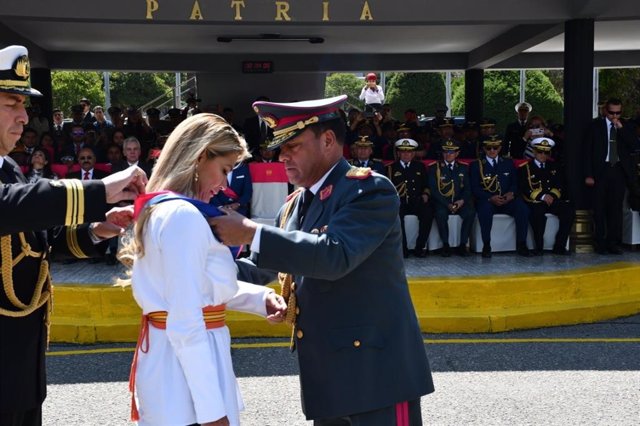 Jeanine Áñez, decorated by the Armed Forces – TWITTER / @ JEANINEANEZ
MADRID, Nov. 27 (EUROPE PRESS) –
The Bolivian Armed Forces have recognized Jeanine Áñez as constitutional president, in a solemn act in which the former vice president of the Senate has also received the rank of captain general and the order of the Great Military Merit.
The commander in chief of the Armed Forces, Carlos Orellana, has presided over the ceremony, which was also attended by Defense Minister Luis Fernando López. Orellana has highlighted the interest of the military body to guarantee peace in Bolivia and the holding of new elections.
The role of the Armed Forces was criticized after the last elections, after the dome suggested the then president, Evo Morales, to resign before the finding of irregularities in the elections of October 20 by the Organization of American States (OAS)
"The recognition of the Armed Forces to my investiture as constitutional president and captain general has a meaning that goes beyond a protocol act," said Áñez, who after his arrival in power has renewed the main command of the military forces and of security.
The gesture, he added, "represents the strength of our State Political Constitution and strict compliance and provisions of the Armed Forces organizational law," reports the ABI news agency.
Áñez has especially thanked that the military "did not hesitate to leave" in "one of the moments of greatest tension" in the recent history of Bolivia. In this regard, he has considered that with his mere public presence "they contributed to the process of pacification in Bolivia" after the "scandalous fraud" attributed to Morales.