The Berlin Wall in figures 30 years after its fall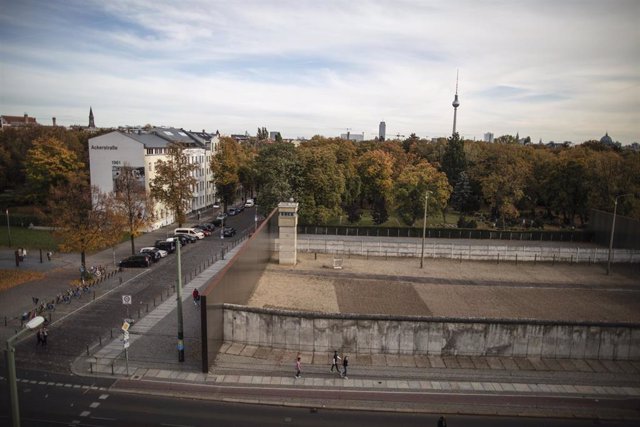 Remains of the Berlin Wall at the memorial in Bernauer Strasse – Hermann Bredehorst
BERLIN, Nov. 8 (DPA / EP) –
The lie pronounced by Walter Ulbricht, the communist leader of East Germany, was one that went down in history: "No one has any intention of building a wall."
A short time later, on a Sunday in August 1961, the construction of the wall began.
Here are some figures of what became a symbol of the division of Germany:
– Length: On August 13, 1961, at 1:00 a.m., the 155 kilometers of border around West Berlin began to be systematically cordoned off, 43 kilometers of which separated the urban area from the city. The dead land strip was between 15 and 150 meters wide.
– Victims: 140 people died alone on the Berlin Wall, including eight border guards from East Germany.
– Cost: By 1970, the wall had cost about 100 million marks from East Germany, although the total cost is unknown.
– Escape: More than 5,000 people managed to flee in Berlin. More than 40,000 people escaped from communist Germany between 1961 and 1989.
– Steps: In total eight border crossings connected the two parts of the city. Bornholmer Strasse was the first to open the night of November 9, 1989.
– Border guards: During the 28 years that the Berlin Wall was maintained, more than 11,000 soldiers of the National People's Army guarded the border in some 300 observation towers.
– Construction: In 1975, the wall was rebuilt with segments of 3.60 meters high. Concrete pipes four meters long were installed in the upper part of each of the 2.75 ton slabs. In addition, the border around West Berlin had a wall of prefabricated buildings, a metal valley and water.
– Tunnels: Over the years, many people tried to cross the border through tunnels that they dug themselves or through the sewer system. It is known that there were about 70 tunnels between East and West Berlin and more than 300 citizens of East Germany used them to reach the western part.