The beach from The Beach closes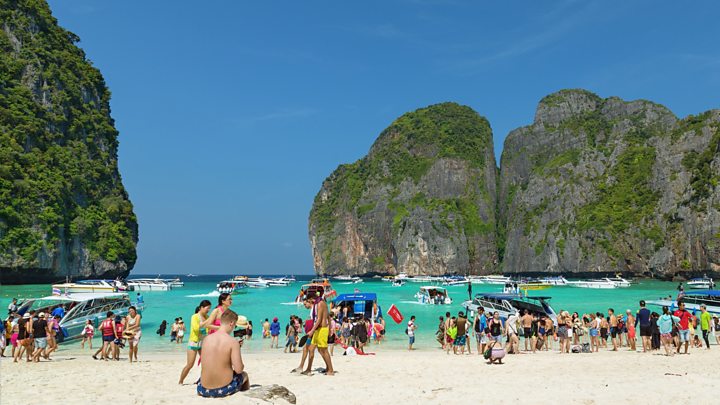 Christy Reid and Heather Mason walk up and down Thailand's famous Maya Bay trying to get the perfect picture for their Instagram.
However, it's tough for the British tourists to get a photo where it looks like they're the only ones in it.
"We came here and didn't think it would be this busy," says Christie. "It's still stunning though."
But from 1 June the beach – made famous by Danny Boyle's film The Beach – is to close to tourists for the first time.
Thai authorities are giving the short strip of sand on the island of Ko Phi Phi a chance to recover from the strain of thousands of daily visitors.
Environmentalists say years of increasing tourism has caused damage to Maya Bay and its surroundings.
"We are a beautiful country but we have to protect our natural resources," says Thon Thamrongnawasawat, an advisor to Thailand's national parks department.
"We have significant information that all the boats that come in and out really impact the coral reef.
"We won't close it to tourism forever but have to do something to save our sea, and we have to start at Maya Bay."
Even if you've never seen the 1998 film with Leonardo DiCaprio, Maya Bay has become a bucket list destination for travellers, gap year students and holiday makers.
The country continues to increase in popularity too with 467,000 visits by UK tourists in 2016.
Most of those who visit Maya Bay only stay for a couple of hours. They have a paddle, a stroll and a selfie – but it's not quite the paradise they'd imagined.
Lara Vogelsberg, 23, from Cologne thinks what you see and what you get are very different.
"The beach in the film is very relaxing, there are no people to be seen, and you get this idea of a very lonely place in the middle of nowhere.
"Then you come here and you think you're in Times Square in New York."
The beach is stunning but definitely not relaxing.
There's the constant sound of the speedboat engines, their propellers churn up the water and it's hard to get a patch of the sand to yourself.
The area is generally clean but there are still some pockets of litter which tourists leave behind.
Tourism is one of Thailand's biggest sources of income so Maya Bay is being shut during the relatively low season, until 30 September.
Its Department of National Parks, Wildlife and Plant Conservation issued a notice saying it realised "the deterioration of the ecosystem in the area of Maya Bay".
When it reopens later this year, it's thought the number of people allowed to visit the beach will be reduced.
Kerri Arnold and Kendal Corgile are visiting from Atlanta, Georgia, and describe it as "hectic but beautiful".
"I didn't realise how busy the beach would be but shutting it temporarily is a great idea. It's crazy how many boats there are. I'm just glad I got to see it."
Follow Newsbeat on Instagram, Facebook and Twitter.
Listen to Newsbeat live at 12:45 and 17:45 every weekday on BBC Radio 1 and 1Xtra – if you miss us you can listen back here.