The Balenciaga T-shirt shirt that has the internet baffled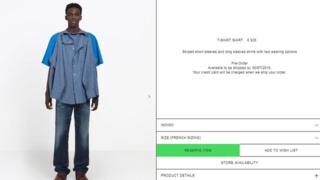 High fashion label Balenciaga is selling a men's indigo T-shirt shirt for £935 as part of their autumn 2018 collection.
For many it's not the price that's a big shock, it's the actual design of the item.
The top is a plain T-shirt which looks like it's had a chequered shirt pinned to the front of it.
And it's left loads of people pretty baffled.
Skip Twitter post by @CorbinTelligman
I'd like to think I understand high fashion, and have no problem shelling out some cash for Gucci, LV, etc., but this…?

— Corbin Telligman (@CorbinTelligman) May 27, 2018
End of Twitter post by @CorbinTelligman
Skip Twitter post by @EPiCIsha
Ya'll! It's not about creativity. It's about history. That one-of-its-kind, multi-purpose hot mess of a shirt is made of 800-thred, 100% Egyptian Cotton spun from several fibers found in King Tutankhamun's after-life wear. That's why it's nearly $1,300🤑

— EPiC ♔ Isha (@EPiCIsha) May 29, 2018
End of Twitter post by @EPiCIsha
According to the Balenciaga website, the T-shirt shirt has two wearing options that create a drape effect.
So many people have decided to recreate their own versions, saving themselves a lot of money.
People have been left with unanswered questions as to why Balenciaga thought this would be a good idea.
We've contacted the company in an attempt to solve the mystery but we've yet to get a response.
Follow Newsbeat on Instagram, Facebook and Twitter.
Listen to Newsbeat live at 12:45 and 17:45 every weekday on BBC Radio 1 and 1Xtra – if you miss us you can listen back here.