The authorities in Lebanon agree to "protect peaceful protesters" and "deter subversive groups"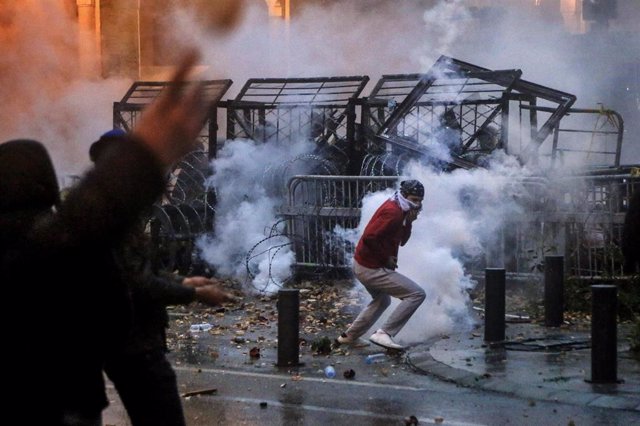 Clashes during protests against the Government in the capital of Lebanon, Beirut – Marwan Naamani / dpa
MADRID, Jan. 20 (EUROPE PRESS) –
The Lebanese authorities have agreed on Monday to work to "protect peaceful protesters" and "deter subversive groups" after the violent incidents recorded over the weekend in the framework of anti-government protests.
The president of the country, Michel Aoun, has led a meeting focused on security issues with the Ministers of Interior and Defense, Raya al Hasan and Elías Bu Saab, respectively, and the army chiefs and security forces.
During the meeting, he has applauded the "efforts" of the security forces during the demonstrations and riots in recent weeks and has requested "to establish a distinction between peaceful protesters and saboteurs."
Thus, those present have agreed to "take the necessary measures to protect peaceful protesters, prevent attacks on public and private assets, deter subversive groups and coordinate with judicial bodies to enforce the laws in force."
The meeting has also resulted in an agreement to "strengthen coordination between military and security services to ensure a good application of the measures taken," as reported by the Lebanese state news agency, NNA.
For his part, the acting Prime Minister, Saad Hariri, has lamented that there are "obstructions" that have prevented the formation of government about three months after he submitted the resignation, before warning that the country is heading for a "unknown" future.
"The Government resigned to form a new one and face the popular demands, but for 90 days the obstructions continue while the country is heading towards the unknown and those involved in the formation (of the Executive) take their time," he said in a series of messages posted to your account on the social network Twitter.
Hariri has stressed that the security forces "assume their responsibilities" and warned that "continuing the circle of security against people only means a persistent crisis and denying the new political reality."
Therefore, he has asked that "the new government be formed to avoid an aggravation of the economic and security crisis" and has reiterated that a functioning Executive "is not the solution". "Let's stop wasting time and let the government take responsibility," he has settled.
During the weekend protests, convened in the framework of the 'week of anger' called by protesters against the authorities, there were about 300 wounded, mainly in the capital, Beirut.
The formation of the new government was scheduled for Friday, following advances in meetings between the appointed Prime Minister, Hasan Diab, and the President of Parliament, Nabih Berri, although finally last minute obstacles postponed the announcement, without any date planned for it.
Lebanon, plunged into a serious political and economic crisis, was plunged in October in a wave of anti-government mobilizations that led to resigning Hariri. In December he was elected as Prime Minister Diab, an academic and former Minister of Education.