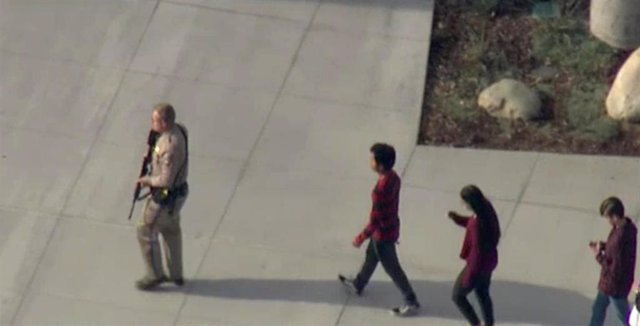 A police officer accompanies students after the shooting at the Saugus Institute in Santa Clarita, California. – VIA REUTERS / HANDOUT.
MADRID, Nov. 16 (EUROPE PRESS) –
The author of the shooting that occurred Thursday at an institute in the Californian town of Santa Clarita, near Los Angeles, has died this Friday due to his gunshot wound that would have been self-inflicted.
The author of the shooting at an institute near Los Angeles dies
Nathaniel T. Berhow, a 16-year-old boy, attacked with a gun that took five colleagues from his institute out of his backpack and killed two of them. So far, the police are unaware of the reasons that led the teenager to commit the attack.
"We found no manifesto, no newspaper to betray him, no suicide note, no text that clearly showed the reason for this assault," agent Kent Wegener of the Los Angeles County Sheriff's Department said Friday collected the newspaper 'The New York Times'.
Wegener said that the authorities have conducted more than 40 interviews, but so far "no motive or reason has been discovered."
Berhow shot himself in the head after the attack. Initially he survived and was transferred to the same hospital where the victims were admitted.
The coroner's office identified the fatalities as Gracie Anne Muehlberger, a 15-year-old girl, and Dominic Blackwell, 15.
Los Angeles County Sheriff Alex Villanueva said there is no indication that Berhow's mother knew she had a gun. Investigators are now analyzing the weapon of the attack, as well as six others that were found in the teenager's home.
Authorities said all the schools in the Hart district of Santa Clarita closed Friday out of respect for the victims and their families.